Pacific Institute featured at COP for water resilience thought leadership, innovative tools

Dr. Amanda Bielawski & Jason Morrison
Key takeaways:
For the first time, water was visible in the final UN Climate Summit COP declaration.

Water solutions play a pivotal role in both climate mitigation and adaptation, with attention moving more toward adaptation at COP27.

The transformative change and radical collaboration needed are at the heart of the Pacific Institute's work advancing water resilience.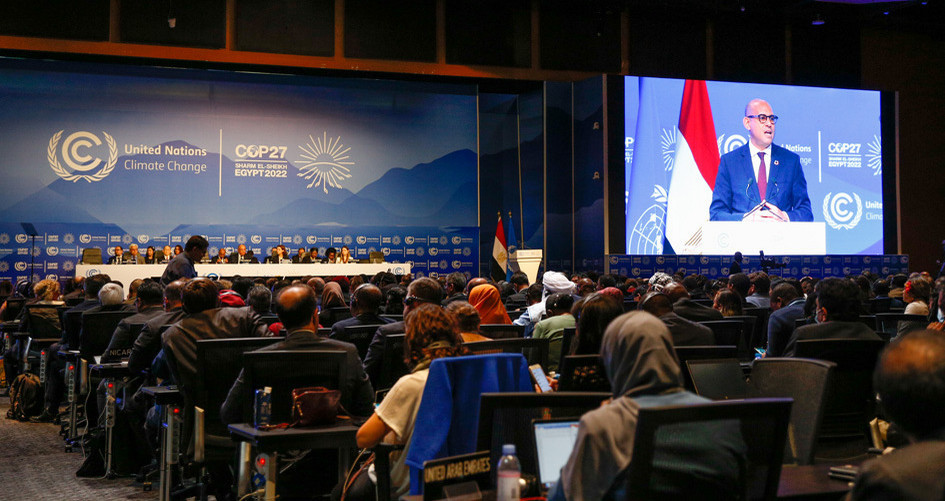 As the United Nations Climate Change Conference (COP27) closed in Sharm El-Sheikh, Egypt, the science was grim. At the same time, water management's role in climate mitigation and adaptation—the heart of the Pacific Institute's work—was more widely recognized than ever before.
Photo: UN Climate Change Executive Secretary Simon Stiell shared opening remarks at COP27. Photo credit: UN Climate Change (COP27 in Sharm el-Sheikh to Focus on Delivering on the Promises of Paris | UNFCCC)
Climate mitigation progress falls short, placing more emphasis on adaptation
COP27 closed with the stark recognition there may be no feasible path to reach the Paris Agreement's 1.5-degree goal. New research finds the last eight years are projected to be the warmest eight on record. Climate mitigation efforts have simply not progressed quickly enough—with devastating impacts felt primarily through the water cycle in the form of intensifying flooding and drought.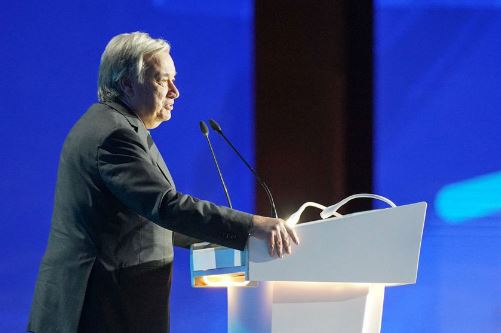 "United Nations Secretary-General António Guterres opened COP27 by acknowledging the world is approaching a tipping point—and urging a focus on rapid implementation of solutions: "The good news is that we know what to do and we have the financial and technological tools to get the job done . . . We need all hands on deck for faster, bolder climate action."  
Photo: Secretary-General António Guterres addresses the opening of the ​​​​​​​Climate Implementation Summit at COP27 in Sharm el-Sheikh, Egypt. UNFCCC/Kiara Worth
Water breaks new COP barriers
While the water agenda rose in prominence during COP26 last year in Glasgow, it broke through new barriers this year at COP27. Visible in both the Blue Zone and Green Zone, water was recognized during negotiations as a powerful solution to address climate change both through mitigation and adaptation.
Notably, this is the first time the final COP declaration directly acknowledged the critical role of water and its many co-benefits:
". . . Recognizing the critical role of protecting, conserving and restoring water systems and water-related ecosystems in delivering climate adaptation benefits and co-benefits, while ensuring social and environmental safeguards . . ."
The final declaration also urged Parties to include water in adaptation plans:
". . . Emphasizes the importance of protecting, conserving and restoring water and water related ecosystems, including river basins, aquifers and lakes, and urges Parties to further integrate water into adaptation efforts . . ."
Now in its second year, the Water and Climate Pavilion united more than 40 international organizations, as well as Indigenous leaders, youth, and academics—to advance water on the climate agenda.
The Pacific Institute played a key role. Across more than a dozen sessions, many of them attended remotely, Pacific Institute colleagues shared water resilience thought leadership and innovative tools to build water resilience.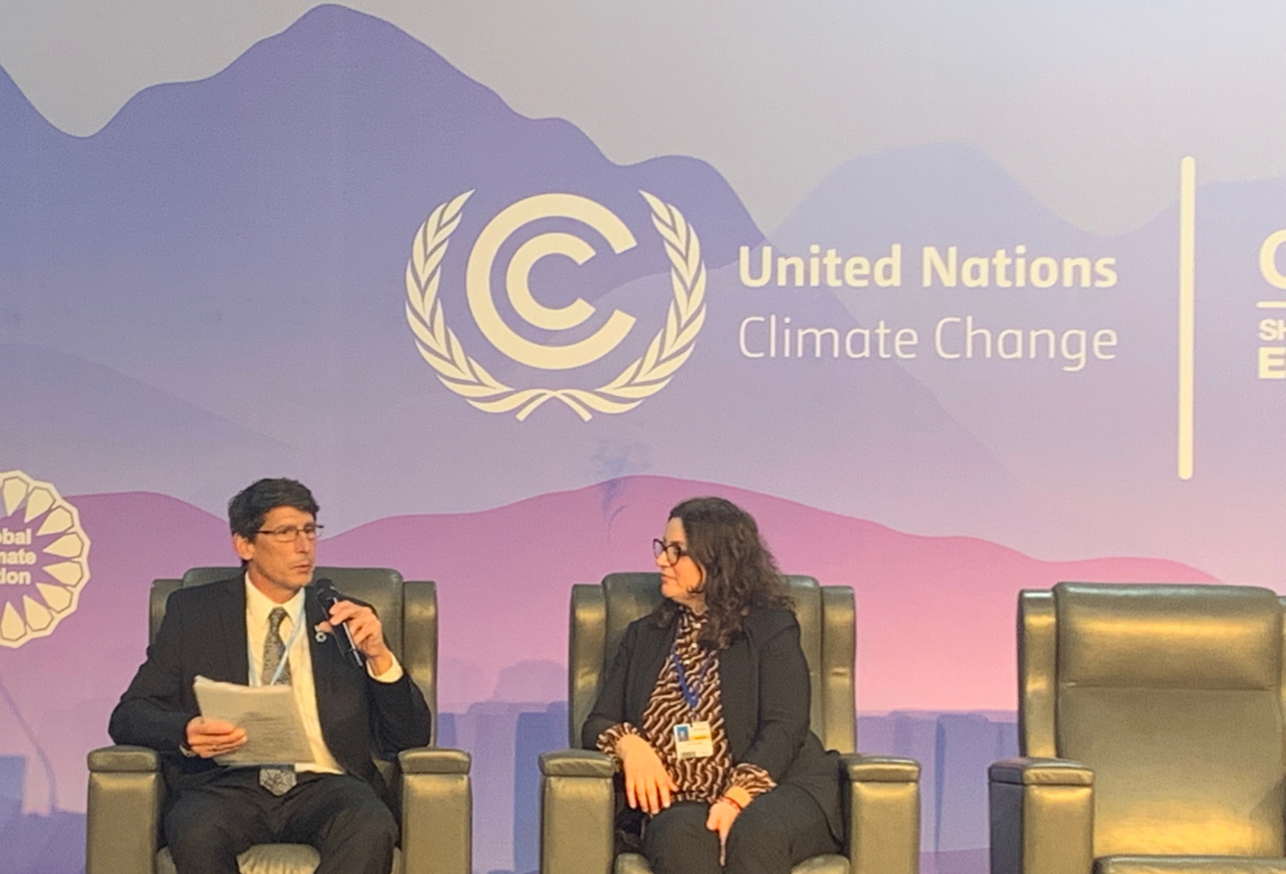 Photo: Jason Morrison, Pacific Institute President and Head of the CEO Water Mandate, (left) pictured with Vania Paccagnan of CDP (right), discusses the role of corporate action to build water resilience at COP27.
If climate is the shark, water is the teeth
To many, COP27 may feel like a far-off meeting. But, for millions of people around the world, decisions made during COP27—and decisions made by the public and private sector leaders every day of the year—will directly impact their personal lives and livelihoods. This is especially true through human interactions with water. As has been stated, "If climate is the shark, water is the teeth."
A growing swell of research—some of it conducted over the past 30-plus years by the Pacific Institute—is unpacking the specific relationships between climate change and the water cycle. The science is clear. Climate change is intensifying water-related disasters, such as floods and droughts, which have affected millions and cost billions this year alone.

Photo 1: Aerial view of summer 2022 floods in the provinces of Sindh and Balochistan in Pakistan. Photo credit: UN Photo/Eskinder Debebe. Photo 2: Lake Powel on August 16, 2017, (left) and on August 6, 2022 (right). Photo credit: NASA. Photo 3: © UNICEF/Kate Holt; Somali women and children stand outside temporary tents in the Dagahaley refugee camp near the Kenya-Somalia border. 
The evidence is visible before us:
Climate change is projected to increase the severity and frequency of these sorts of droughts and floods even further into the future, compounding an already concerning water crisis.
Transformation to water resilience—the heart of the Pacific Institute's work
During the run-up to COP27, Christiana Figueres, who led the UN Framework Convention on Climate Change (UNFCCC) when the 2015 Paris Agreement was adopted at COP21, called for a new mindset and radical collaboration across sectors. Figueres wrote: "One company or one government alone cannot make the kind of difference we need; the transformations must be systemic and exponential, and delivered with justice in mind."
This type of transformative change and radical collaboration are at the heart of the Pacific Institute's work.
In 2019, the Pacific Institute announced an organizational goal to "catalyze the transformation to water resilience in the face of climate change" by 2030. This forward-looking goal builds on more than 30 years of thought leadership on climate-water connections. Long before this connection was recognized in mainstream policy discussions, the Pacific Institute conducted early research, made early warnings, and proposed some of the earliest solutions.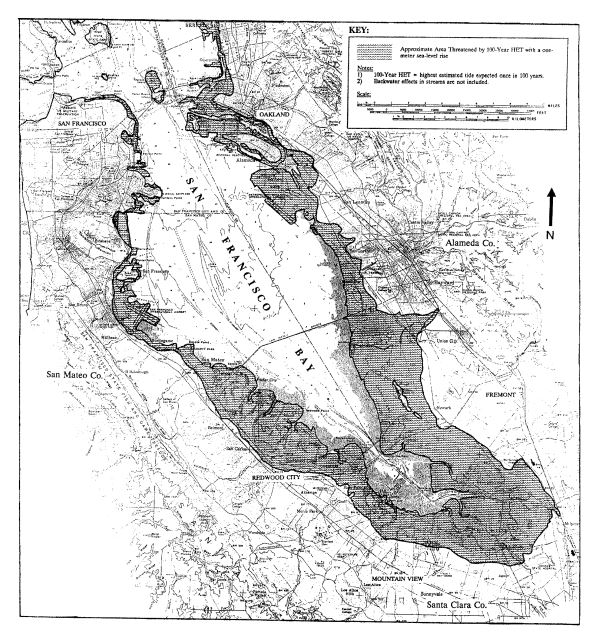 During the early 1990s, climate-water assessments were conducted both domestically and internationally—from the Bay Area of California to the Nile River Basin in Africa. In 1990, the Pacific Institute conducted one of the earliest assessments of sea-level rise impacts for the San Francisco Bay Area. In 2009, this analysis was expanded to cover the entire California coast, becoming a significant lever for policy change.
Photo: Area of San Francisco Bay Threatened by a 1-meter Sea-Level Rise: Southern Portion. From 1990 Pacific Institute report.
In advance of COP26 in Glasgow, the Pacific Institute launched its Water Resilience Issue Brief, calling on decisionmakers across the private and public sectors to rapidly scale solutions. Many solutions stem from what our colleague, Dr. Peter Gleick, Senior Fellow and Co-Founder of the Pacific Institute, describes as the "soft path" for water. This more-sustainable framework calls for decentralized infrastructure, innovative and efficient use of technology, the protection of ecosystems, and reversing the policy inertia historically focused on endlessly increasing water supplies. Some of the specific solutions include integrating nature-based solutions (NBS), which offer multiple co-benefits, as well as increasing inclusion of water efficiency and reuse approaches. Recent Pacific Institute research found water efficiency measures could reduce urban water use in California by up to 48 percent, while also playing a critical role in reducing greenhouse gas (GHG) emissions.
Building an equitable movement powered by collective action
At COP27 and beyond, the Pacific Institute is convening and equipping decisionmakers, including utilities, corporations, and public policymakers, to serve as key levers of change. In all cases, we call for equitable approaches that prioritize the most impacted stakeholders, especially frontline communities often disproportionately impacted by climate change, as well as the natural environment.
During COP27, the Pacific Institute advanced this work during a wide range of sessions. Our colleague Dr. Peter Gleick provided an assessment of the integrated nature of water, climate, and food challenges for the Science, Technology, and Society session organized by the Japanese government.
Many sessions also focused on the pivotal role the corporate sector must play by reducing water impacts of their operations and value chains—and by uniting through collective action. The Pacific Institute is proud to partner with the United Nations Global Compact in leading the CEO Water Mandate, which unites more than 200 companies to build water resilience. This work was front and center at COP27:
All hands on deck
As United Nations Secretary-General António Guterres said in his COP27 opening remarks, "The good news is that we know what to do and we have the [tools] to get the job done."
As we see the water-related impacts of climate change ravage communities around the world—from Pakistan to the US West—one thing is clear. The risks of not acting quickly enough are simply unacceptable.
Indeed, we have the tools. Through transformative change and radical collaboration, now is the time to rapidly accelerate one thing: action.
—
Contributions made to the Pacific Institute by December 31 will be matched dollar for dollar up to $100,000.