Assessing The Costs Of Adapting To Sea-Level Rise: A Case Study Of San Francisco Bay
Published: April 18, 1990
Authors: Peter Gleick, Edwin Maurer
Pages: 97
Note: See 2012 update on San Francisco Bay Sea-Level Rise here.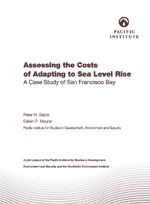 One of the direct consequences of climatic changes will be a rise in sea level due to the melting of land ice and the expansion of the upper layers of the ocean as they warm. This study looks at the potential costs to society of protecting against an increase in sea level, and applies this method to the San Francisco Bay area — a region of great ecological diversity, economic importance, and vulnerability.
Effects of rising sea levels around the margin of San Francisco Bay are evaluated, structural options for protecting property are identified and chosen for threatened areas, and estimates of costs of protection are determined.
 Download the report. 
Note: The original print version of this report contained two fold-out maps. They are included in the electronic version as reduced-size images and are available below as full-sized PDFs.

Figure 7. Area of San Francisco Bay Threatened by a 1-meter
Sea-Level Rise: Southern Portion (PDF)

Figure 8. Area of San Francisco Bay Threatened by a 1-meter
Sea-Level Rise: Northern Portion (PDF)