Key takeaways
Innovative water efficiency solutions not only reduce water use; They also offer multi-benefits, including reducing greenhouse gas emissions and improving water equity.

 

Pacific Institute research finds water efficiency efforts could reduce California's urban water use by up to 48%.

Cross-sector collaborations uniting utilities, companies, and NGOs can effectively advance water efficiency solutions.
Pacific Institute research and innovative solutions related to water efficiency and conservation were recently featured at the 2022 WaterSmart Innovations Conference and Exposition in Las Vegas. From October 4 to 6, technical sessions covered a spectrum of water efficiency and conservation topics, including advancing the adoption of water-efficient products, alternative water supplies, and marketing and outreach.
Pacific Institute researchers presented three technical sessions on innovative water management approaches that save water and build long-term water resilience, while providing a range of related multi-benefits, including saving energy, reducing greenhouse gas emissions, and supporting low-income communities. Below are summaries of the three Pacific Institute presentations and key takeaways. 
Harnessing the Power of Water to Meet
Energy and Climate Goals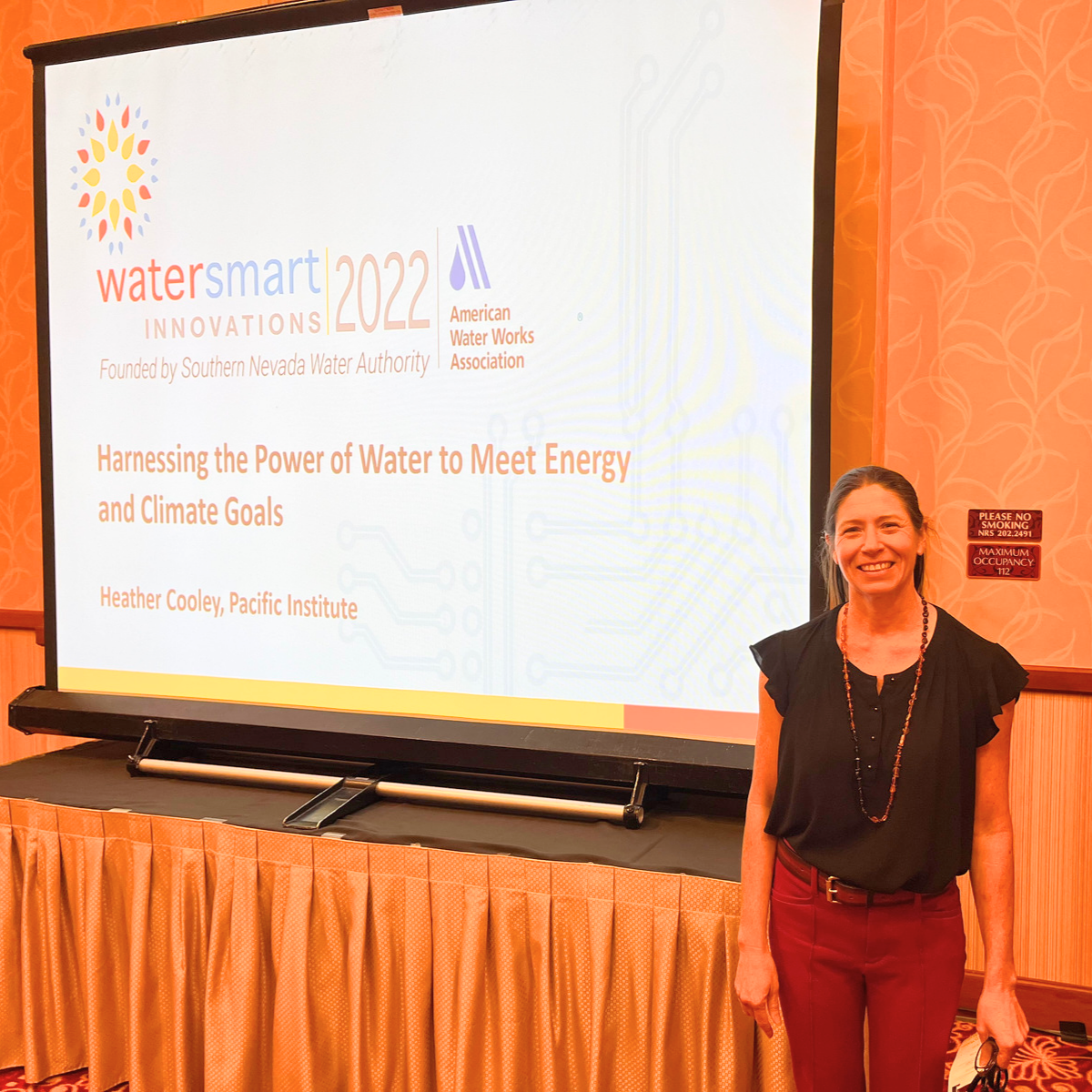 As conventional water sources become constrained, communities are considering more energy-intensive options, threatening to increase water's energy and greenhouse gas footprints. Using California as a case study, this session drew on new data to develop future scenarios of water supplies and demands to estimate water's energy and greenhouse gas footprints. For instance, key finding from Next10 report found that more comprehensive water conservation and efficiency efforts in urban California could reduce water related electricity usage by 19 percent, natural gas use by 16 percent, and GHG emissions by 41 percent cumulatively between 2015 and 2035. While focused on California, the methodology and results can help inform decisions for communities across the western United States and beyond.   
"Water and energy are intricately connected – we use energy across the water management cycle. This energy use results in greenhouse gas emissions, contributing to climate change. Urban water efficiency offers the greatest reductions in water-related energy use and greenhouse gas emissions."

– Heather Cooley, Director of Research, Pacific Institute
Read more about the future of California's water-energy-climate nexus here.  
The Untapped Potential of California's Urban Water Supply: Water Efficiency, Water Reuse, and Stormwater Capture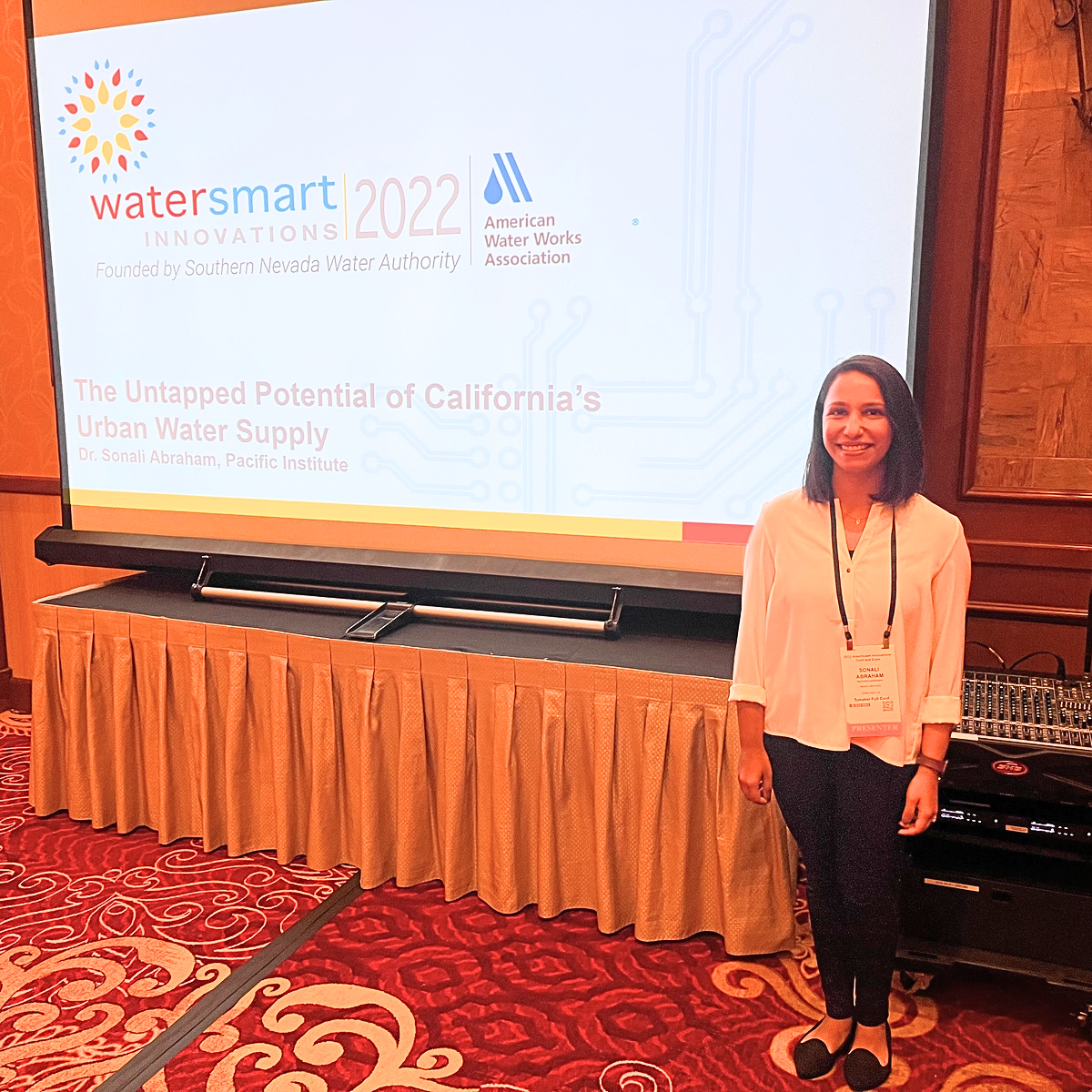 This session highlighted the results of a recent Pacific Institute study that quantified California's potential to significantly expand urban water efficiency, water reuse, and stormwater capture solutions. When implemented, these solutions can both reduce inefficient and wasteful water uses and expand local water supplies. Previous assessments have proven these options are also more cost effective than traditional approaches, which are also increasingly difficult to implement to expand supply. Tapping this potential would help solve California's long-standing water problems and provide added benefits.  
"California has made progress to reduce water use, but more is needed in the face of intensifying drought and climate change. Efficient technologies and practices can reduce California's urban water use by 30% to 48%." 

– Dr. Sonali Abraham, Research Associate, Pacific Institute 
Read more about the untapped potential of California's urban water supplies here.  
Advancing Water Efficiency in Low-Income Housing: Southern California Case Study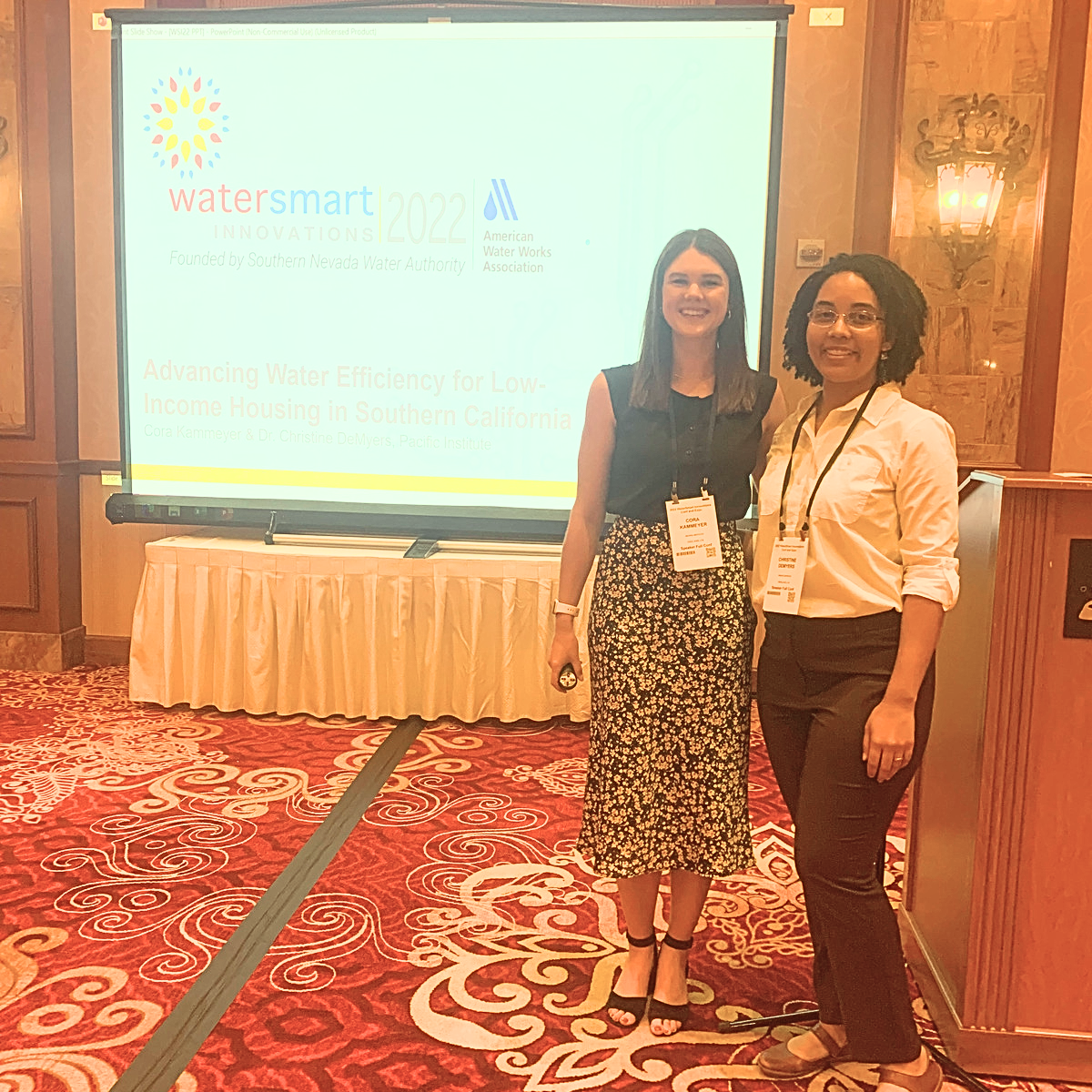 This session shared results from a cross-sector project in which corporations, NGOs, and water utilities worked together to install and monitor remote leak detection technology in three low-income apartment buildings in Southern California. The session covered the estimated water, energy, and cost savings from the project; stakeholder perspectives; and how the unique set of partners came together to make the project happen. The session also shared learnings from project implementation, including the project design and how to effectively partner across sectors.  
"With this project, we're helping affordable multi-family housing properties realize the multiple benefits of participation in conservation and efficiency programs. The leak detection technology we are piloting saves water, reduces utility bills, and improves building maintenance workflow."  

– Dr. Christine DeMyers, Research Associate, Pacific Institute 
Learn more about the project here.
To learn more about Pacific Institute's work and keep up to date on future presentations and events, visit pacinst.org/presentations and sign up for our newsletter at pacinst.org/newsletter.