The Untapped Potential of California's Urban Water Supply: Water Efficiency, Water Reuse, and Stormwater Capture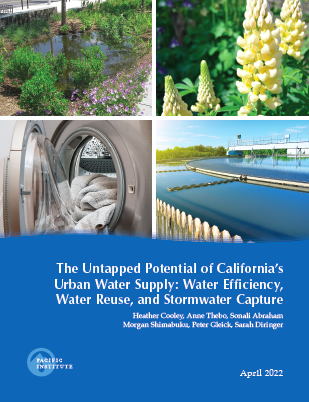 The Untapped Potential of California's Urban Water Supply: Water Efficiency, Water Reuse, and Stormwater Capture
Overview
Persistent challenges and severe drought have shone a spotlight on the vulnerability of California's water systems. They also offer an opportunity to rethink the state's water supplies and strategies for the 21st century and beyond. 
While California has made strides in implementing water efficiency, water reuse, and stormwater capture strategies, this study quantifies the opportunity to greatly expand these efforts. It finds that California could reduce urban water use by 30%-48% through investments in water efficiency measures. It also highlights the potential to boost local water supplies across sectors and regions by more than doubling municipal water reuse and significantly increasing stormwater capture across the state. While the findings are specific to California, they can inform water resilience strategies across the United States and beyond. 
Key Findings
Key findings include:  
Water-efficiency potential:

Further implementation of water-efficiency measures, including replacing inefficient clothes washers and other appliances with high-efficiency models, replacing lawns with climate-appropriate plants, and reducing losses in water distribution systems, could reduce California's urban water use by a dramatic 2.0 million to 3.1 million acre-feet per year, representing a 30% to 48% statewide urban water-use savings.  

 
Water-reuse potential:

Municipal water reuse could be more than tripled in California, significantly adding to local water supplies. Today, an estimated 728,000 acre-feet of municipal wastewater is reused each year for groundwater recharge, landscape irrigation, and other beneficial use across the state. This new assessment identifies the potential to increase water reuse in California by an additional 1.8 million to 2.1 million acre-feet per year.

This would bring total statewide reuse to 2.5 million to 2.8 million acre-feet per year, more than tripling current water-reuse levels.

 

 
Stormwater capture potential:

A growing number of California communities are integrating stormwater into their local water supply portfolios. Urban stormwater capture potential in the state ranges from 580,000 acre-feet in a dry year to 3 million acre-feet in a wet year in urban areas overlying public supply aquifers. There is no statewide estimate of the amount currently captured and reused. 

 
Resources
Presentation: The Untapped Potential of California's Urban Water Supply (April 12, 2022)