The U.S. Infrastructure Investment and Jobs Act: Water Components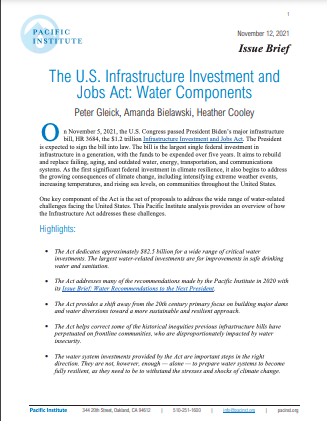 The U.S. Infrastructure Investment and Jobs Act: Water Components
Overview
On November 5, 2021, the U.S. Congress passed President Biden's major infrastructure bill, HR 3684, the $1.2 trillion Infrastructure Investment and Jobs Act. The President is expected to sign the bill into law.
The bill is the largest single federal investment in infrastructure in a generation, with the funds to be expended over five years. It aims to rebuild and replace failing, aging, and outdated water, energy, transportation, and communications systems. As the first significant federal investment in climate resilience, it also begins to address the growing consequences of climate change, including intensifying extreme weather events, increasing temperatures, and rising sea levels, on communities throughout the United States.
A key component of the bill is the set of proposals to address the wide range of water-related challenges facing the United States. This issue brief provides an overview of how the Infrastructure Act addresses these challenges.