396 Resources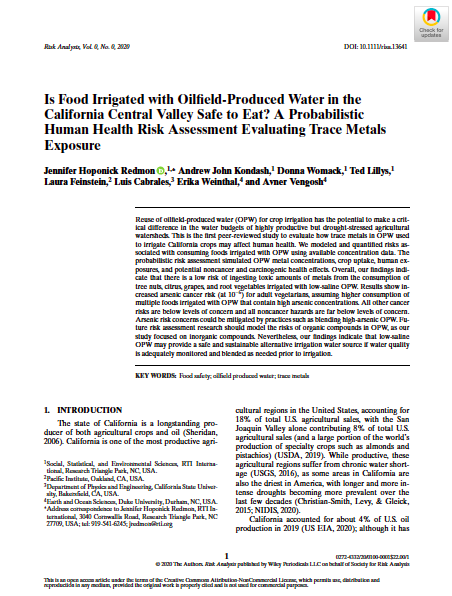 December 18, 2020 |
publication

In California, drought and a reduction in natural water availability in recent decades have led to a search for alternative water sources for agriculture. One controversial potential source is produced water a byproduct of oil extraction.
---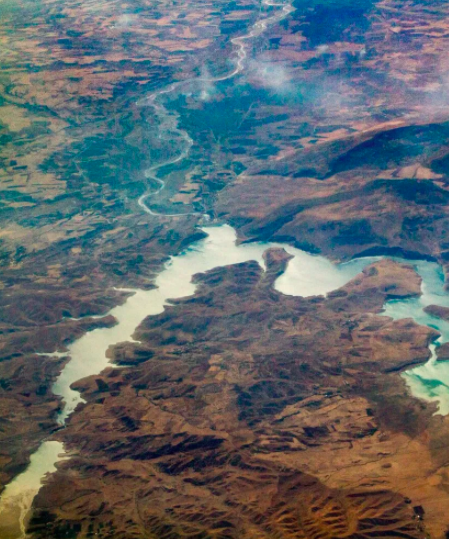 December 9, 2020 |
publication

On December 20, 2019, President Trump signed into law the National Defense Authorization Act (Public Law 116-92), including the Intelligence Authorization Act of FY2020. Section 6722 of that law required a report be prepared on the national security effects of "global water insecurity" and be submitted within 180 days (by late June 2020) to "the congressional intelligence committees, the Committee on Foreign Affairs of the House of Representatives, and the Committee on Foreign Relations of the Senate."
---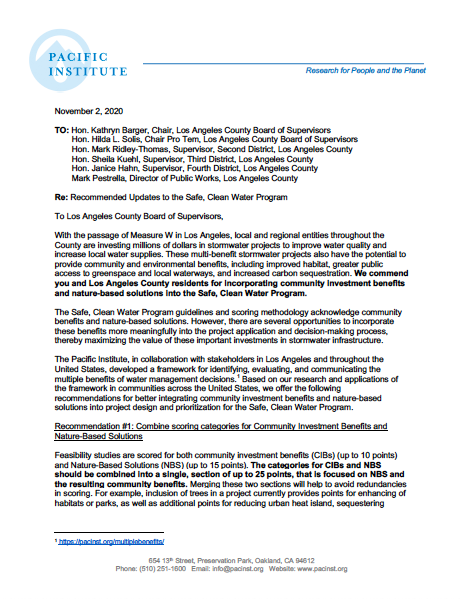 November 13, 2020 |
publication

Investing in water management can provide multiple benefits to communities and the environment. During 2019 and 2020, the Pacific Institute engaged with stakeholders in Los Angeles, California to increase consideration of co-benefits as part of their innovative, regional stormwater funding, called the Safe, Clean Water Program.
---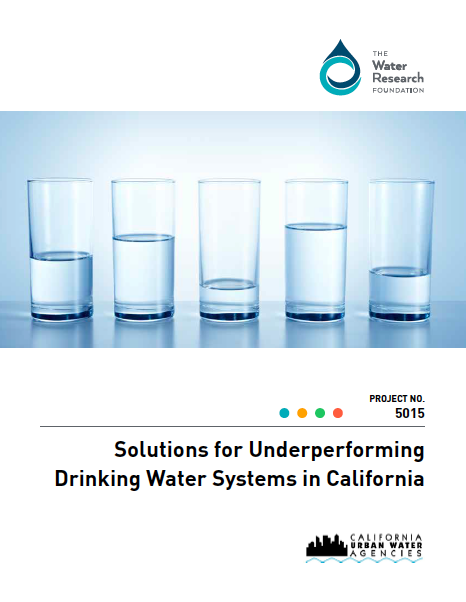 October 29, 2020 |
publication

California passed the Human Right to Water in 2012, acknowledging that every resident has a right to safe, clean, and affordable drinking water. Both large and small water systems struggle to provide safe drinking water; however, small systems face the greatest challenges.
---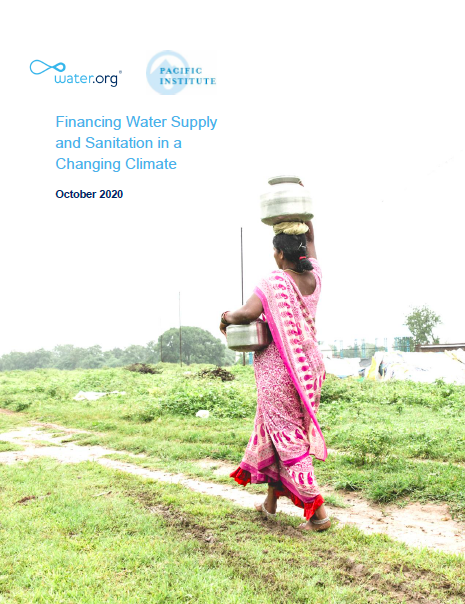 October 22, 2020 |
publication

Human-caused climate change is real and accelerating, creating new challenges for all aspects of freshwater management, including meeting basic human needs for water and sanitation. Important gaps in our understanding of these challenges include both the complications climate change poses for planning, implementing, and sustaining water supply and sanitation systems, especially for the poor; and the links between these systems and the emissions of greenhouse gases that worsen the overall climate problem.
---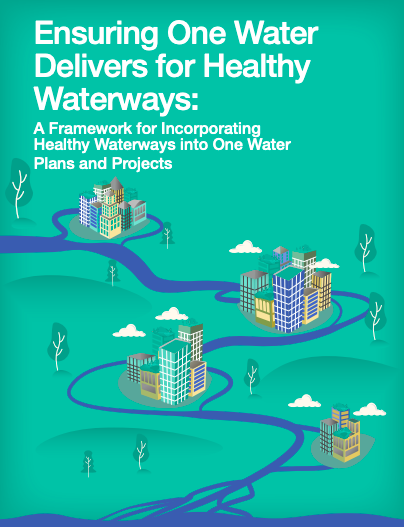 October 12, 2020 |
publication

As forward-thinking cities become increasingly adept at capturing and reusing wastewater, stormwater, and greywater, essential river systems may be at risk. The "One Water" approach to water management emphasizes an integrated planning and implementation approach that acknowledges the finite nature of water resources and prioritizes long-term resilience and reliability.
---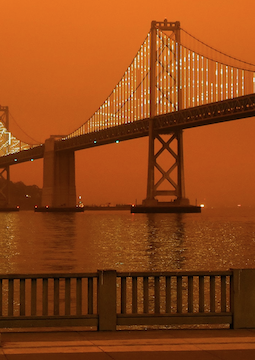 September 14, 2020 |
publication

Like millions of people in the western United States this week, I woke up to deep red, sunless skies, layers of ash coating the streets, gardens, and cars, and the smell of burning forests, lives, homes, and dreams. Not to be too hyperbolic, but on top of the political chaos, the economic collapse, and the worst pandemic in modern times, it seemed more than a little apocalyptic.
---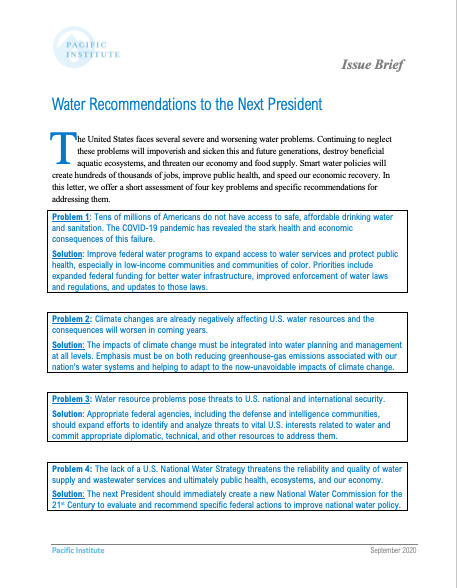 September 13, 2020 |
publication

Every human being needs safe and affordable water, but in the United States, tens of millions of people still lack it. As the COVID-19 pandemic revealed, poor water infrastructure and the failure to provide universal access to safe water and sanitation threaten public health. Meanwhile, water shortages, poor management, and antiquated water systems threaten the nation's food supply, ecosystems, and economy.
---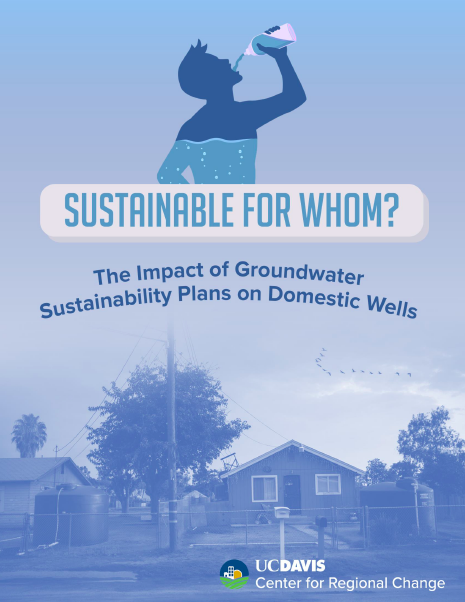 September 5, 2020 |
publication

Studies estimate that 1.5 to 2.5 million Californians rely on domestic wells to meet their household water needs, but because domestic wells are often shallow, they are often sensitive to changes in groundwater levels. Thus sustainable groundwater management has an important role to play in safeguarding the health and safety of Californians and the achievement of the state's recognized human right to water.
---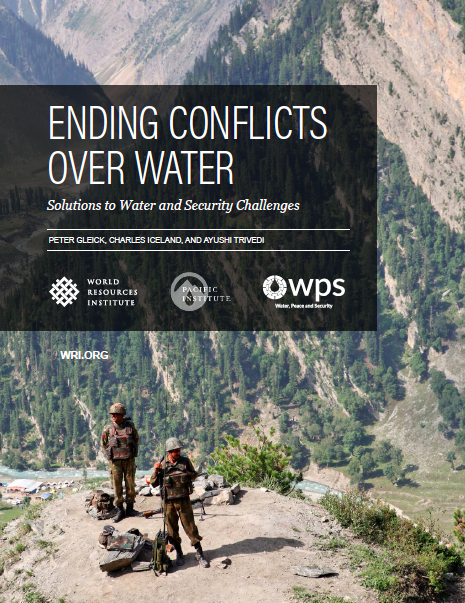 September 2, 2020 |
publication

Water-related conflict and political instability are on the rise across the globe. But while intensifying water challenges and the threats they pose to security are well documented, relatively few solutions have been presented. This report fills the gap by exploring several dozen strategies to reduce water-related conflicts in key water-insecure hotspots around the world.
---
Page 4 of 40