Customer Debt and Declining Revenues: The Financial Impacts of COVID-19 on Small Community Water Systems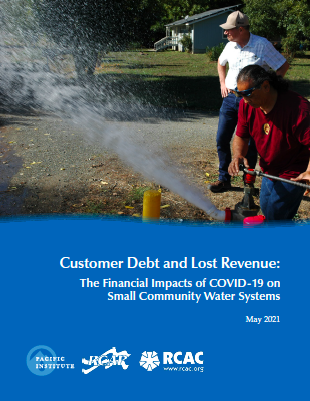 Customer Debt and Declining Revenues: The Financial Impacts of COVID-19 on Small Community Water Systems
Overview
More than 45,000 small community water systems exist in the United States. These small community water systems, defined as those serving fewer than 10,000 people, are distributed across the country. Altogether they serve 53 million people across rural and urban settings, on Tribal reservations, in the midst of huge metropolises, and in growing communities.
Despite the critical role of small community water systems in providing a vital resource to their communities, they often lack financial reserves and are frequently overlooked in state and federal stimulus and aid packages. This report investigates how the COVID-19 pandemic exacerbated pre-existing challenges for these water systems as well as for underserved communities faced with rapidly rising water bills, financial and cyber insecurity, and the rising costs of treating new contaminants in their water and wastewater. A set of recommendations is offered to make these systems more resilient to current and future financial challenges and ensure reliable and affordable access to water and sanitation for the millions of Americans who rely on small community water systems.
The report and accompanying case studies are a project of the Pacific Institute, the Rural Community Assistance Partnership, and the Rural Community Assistance Corporation.
Key Findings
Key findings from the report include:
Revenue loss peaked in the early months of the pandemic and has decreased since then, but a minority of small community water systems are still losing substantial revenue due to unpaid bills and reduced water use. While most systems have experienced only small changes in expenses and revenues from the pandemic, between one quarter and one half of small systems have lost revenue during the pandemic, some losing more than 30% of their revenue.
Revenue shortfalls have primarily been caused by unpaid water bills and declines in water usage. If customer support is administered widely, small water systems will have revenue. The financial challenges for customers are visceral and dire, particularly for customers of color, who are also disproportionately impacted by the pandemic itself. Immediate assistance for ratepayers late on their water bills is needed.
Nine percent of small community water system customers, or 73,000 accounts, are in debt to their water provider in California. The average debt is $370 per account, less than the $500 average for medium and large systems. Small water system customers in California had accumulated $27 million in debt by the end of October 2020, but the authors estimate that household debt may have grown to as much as $38 million by the end of January 2021.
Narratives from small water systems across the country reflect widespread challenges, many of which existed before the pandemic. For example, although there have been no cases of COVID-19 in Manokotak, Alaska, strict regulations preventing non-essential travel have led to challenges for the water system. Manokotak needs to upgrade its drinking water facilities but cannot do so because the construction workers would need to come from outside the municipality. Instead, Manokotak has been left waiting for the pandemic to end, meanwhile tenuously relying on its old drinking water infrastructure.
The economic fallout of the pandemic has put additional stress on residents trying to keep up with their water bills. For example, in the City of Independence, Missouri, the average reported utility (water and energy) delinquency is $1,277, yet the average income is slightly more than $2,000 per month.
In This Series
Resources