Gap Analysis for Funding Solutions for Human Right to Water and At-Risk Drinking Water Systems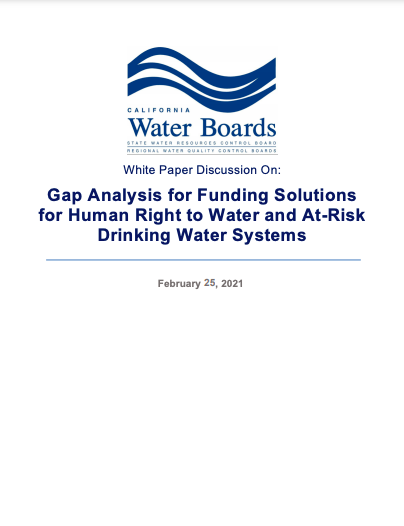 Gap Analysis for Funding Solutions for Human Right to Water and At-Risk Drinking Water Systems
Overview
In 2012, California's Human Right to Water was passed, calling for safe, clean, affordable, and accessible water for all citizens. Then in 2016, the California State Water Resources Control Board (State Water Board) adopted a Human Right to Water Resolution, making the Human Right to Water a primary consideration and priority across its programs.
This white paper provides an overview of the proposed methodology for analyzing the gap between the funding needs and available funding sources for the Human Right to Water list, as well as at-risk water systems and domestic wells across California.
Learn more and download the white paper here.
In this Series