The CEO Water Mandate: Human Right to Water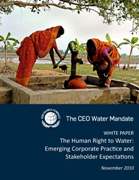 Published: November 6, 2010
Authors: Jason Morrison, Peter Schulte, Rob Greenwood
Pages: 15
In July 2010, the UN General Assembly (UNGA) recognized access to safe drinking water and sanitation as a human right. Two months later, the UN Human Rights Council (UNHRC) affirmed this right by a consensus resolution. Even before these UN actions, many governments, NGOs, academics, and companies alike have acknowledged this human right to water and sanitation and sought to find solutions to help realize it on the ground. Further, a number of initiatives have emerged that have attempted to elucidate what this right means for a number of different actors, including companies.
With water issues among the world's most critical sustainability challenges, businesses must recognize solutions as a core part of corporate water stewardship. The just-released The Human Right to Water:Emerging Corporate Practice and Stakeholder Expectations from the UN Global Compact CEO Water Mandate provides emerging corporate practices and policies, as
well as stakeholders' expectations regarding the role of business in realizing the human right to water.
This white paper is designed to provide information that will inform both how individual companies can respect the human right to water, as well as how the Mandate itself can meaningfully contribute to business' ability to effectively address this issue. Specifically, it sets out to:
• Provide an overview of related public policies and emerging frameworks and guidance that
support business practice and/or establish expectations of companies on this issue;
• Describe the nature of the challenges and the contours of the debate regarding businesses
respecting the human right to water;
• Summarize the state‐of‐play with regard to business practice and illustrate examples of existing
corporate policy and approaches on the topic; and
• Identify options for how the CEO Water Mandate might advance this core focus area.
Download the full report (PDF).