Advancing Community Health through Community Benefits Agreements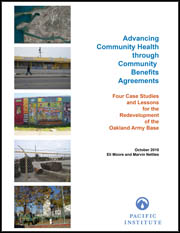 Published: October 29, 2010
Authors: Eli Moore, Marvin Nettles
Pages: 26
The redevelopment of the former Oakland Army Base presents an enormous opportunity for investment in strategies to improve community health. A Community Benefits Agreement (CBA) with the developer of the former Base is one strategy for the community to directly negotiate the benefits that will meet their priorities, monitor the project's impact as it moves forward, and hold the developer accountable for the agreement. A CBA is a legally binding contract between a developer and community groups, and sometimes local government, that specifies benefits that a development project will result in for the local community.
The 2010 report Advancing Community Health through Community Benefits Agreements — Four Case Studies and Lessons for the Redevelopment of the Oakland Army Base explores the potential of a Community Benefits Agreement with the Oakland Army Base developer as a strategy for advancing community health in Oakland, with research focusing on four cases of CBAs that covered community health issues that are also of concern in Oakland.
This research was carried out by reviewing mass media articles and academic literature on Community Benefits Agreements and analyzing the official Community Benefits Agreements and related documents for the selected cases. Each case provides precedents and lessons learned for holding a developer accountable to specific measures that protect and strengthen community health.
Read the report.