Setting Site Water Targets Informed by Catchment Context CASE STUDY: Upper Vaal River Basin and Berg and Breede River Basins, South Africa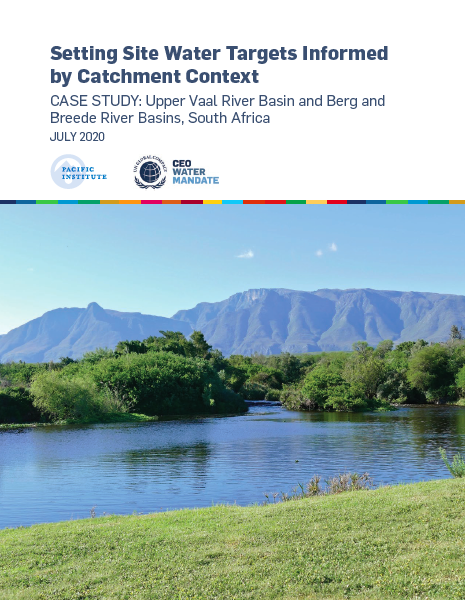 Setting Site Water Targets Informed by Catchment Context CASE STUDY: Upper Vaal River Basin and Berg and Breede River Basins, South Africa
Overview
The world's water resources are under increasing pressure from rising water consumption, pollution, and climate variability. The variety of water challenges companies face, from water governance issues to extreme events like drought, manifest in the river basins where the companies operate. Therefore, setting meaningful targets requires companies to take the local context of their operations into consideration.
This case study documents the use of site-level water targets in two river basins: the Upper Vaal, which is critical for supplying water to South Africa's economic hub, the Gauteng city-region; and the Berg and Breede river basins, which supply the City of Cape Town with water. The purpose of the project was to help participating companies understand the local water context and engage with peer companies, public sector water managers, and other stakeholders in the river basin to align on key water challenges and set effective site-level targets. This approach to water target-setting can help companies prioritize actions and investments that address the key water challenges in the region and contribute to the sustainability of the river basin.
The case study was developed by the UN Global Compact's CEO Water Mandate, which the Pacific Institute serves as Co-Secretariat for, in collaboration with Sasol Limited, Unilever PLC, Woolworths Holdings Limited, and Hilton Worldwide Holdings Inc.
Key Findings
The pilot companies in South Africa were extremely diverse in terms of their operations and therefore their water-related challenges. Below are some learnings based on the experience of the pilot, collected from the project team and pilot companies:
Water challenges are often interrelated and connected. Especially when water governance challenges manifest as water supply or water quality challenges at the river basin level. It's important to identify the root causes of a particular water challenge in order to identify targets that mitigate the source and not the symptom.
Data to determine the desired condition can be challenging to find. In many cases, data is only available for water supply and quality in the river basin so engagement with the public sector authority for the river basin or stakeholders are necessary understanding whether such data exists. Alternatively, use stakeholder engagement to determine the desired condition.
Site targets can be specific or process-related, quantitative or qualitative. Where there is a lack of quantitative guidance on the desired conditions of the river basin, it is better for a company to set qualitative targets or process-related site targets than none at all.
Identifying site water targets that are informed by river basin context can require lengthy and in-depth analysis. However, in the spirit of shared water risk and stewardship, it may often make more economic (and practical) sense to look at opportunities within the broader river basin alongside risks the company faces alone. Targets that mitigate both company and river basin risks are likely to be superior and far-reaching.
In this Series