Setting Site Water Targets Informed by Catchment Context CASE STUDY: Noyyal-Bhavani River Basin, South India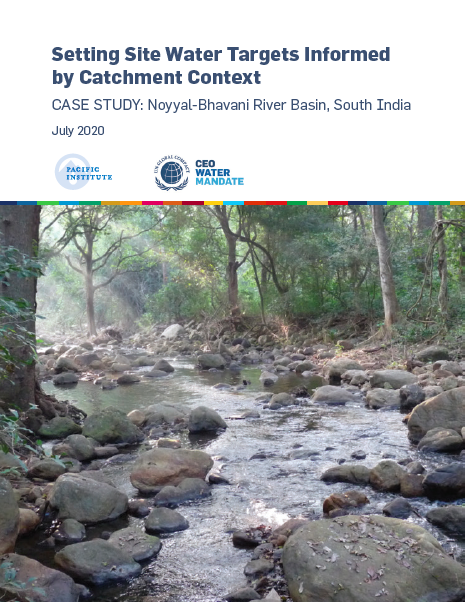 Setting Site Water Targets Informed by Catchment Context CASE STUDY: Noyyal-Bhavani River Basin, South India
Overview
The world's water resources are under increasing pressure from rising water consumption, pollution, and climate variability. The variety of water challenges companies face, from water governance issues to extreme events like drought, manifest in the river basins where the companies operate. Therefore, setting meaningful targets requires companies to take the local context of their operations into consideration.
This case study shares steps taken and lessons learned in setting site-level water targets for apparel facilities in the Noyyal-Bhavani River Basin in South India, a significant hub for the textile industry. Focused on companies in the apparel sector, this case study can help other companies — even those beyond the apparel sector — set water targets that account for their specific river basin context.
Key Findings
This process aimed to help participating companies and facilities understand the local context in which they operate. It led to a deeper and more comprehensive understanding of the basin's water-related needs and challenges, considering environmental, social, and governance perspectives. Recommended targets are ultimately informed by local context and site ambition.
Some key learnings from the process are detailed below:
The lack of data can be a finding: If data is not available for a particular challenge or issue, this does not mean it should be excluded from analysis or consideration. An important result can be to direct more research to the issue.
Governance and climate change are overarching issues: The lack of a cohesive water governance system affects both the extent of all water challenges and the ability to analyze them, for example, through the availability of good data. Similarly, climate change affects all water challenges; rising temperatures and changes in precipitation can affect water availability, water demand,and infrastructure.
Organizational structure can influence engagement and success of the pilot: It is possible to contribute to setting site-level targets at whatever level the process is led at – the corporate level, the local level, etc. However, defining this early on in the process is beneficial in making the process more effective.
Partner with on-the-ground organizations: If you are not based in the region where the sites are located, it is crucial to identify and create effective partnerships with organizations that are.
Understand global strategy versus local strategy: It is important to take both local conditions and global strategies into account when determining which targets to set and the projects to implement to meet those targets.
In this Series