An Independent Scientific Assessment of Well Stimulation in California and Fracking Issue Briefs
Report published: July 2015
Pages: 411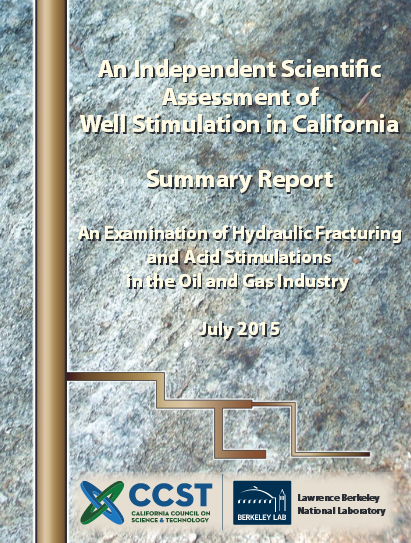 Hydraulic fracturing, or "fracking", has generated tremendous controversy over the past several years. In light of growing concern about fracking in California, the California Legislature passed Senate Bill 4 (SB 4) in 2013, requiring the California Natural Resources Agency to conduct an independent, scientific study of fracking and other well stimulation technologies in California.
The study, prepared by the California Council on Science and Technology (CCST) in partnership with the Pacific Institute and Lawrence Berkeley National Laboratory, consists of three volumes. The volumes go into extensive detail about well stimulation treatments in California; the risks these technologies pose to water, air, seismic activity, wildlife, plants, and human health; recommendations and areas where there are information gaps; and case studies that assess these risks for different geographic regions.
This study is an important step in better informing policy choices, as few scientific studies of the health and environmental impacts of well stimulation have been conducted to date, and the ones that have been done focus on other parts of the country, where practices differ significantly from present-day practices in California.
The Pacific Institute played a vital role in evaluating risks to California's water resources. One of the key issues identified in the research was related to the disposal of wastewater produced – a concern that applies more broadly to all oil and gas development.  For example, between 40% and 60% of wastewater from stimulated wells is disposed of in percolation pits – a practice that poses a risk to groundwater resources. The study recommends establishing appropriate water protection oversight rules and regulations and calls for additional information and data to  further evaluate  the fracking  technologies. The Pacific Institute expects  these findings will influence further studies and instigate improved practices and regulations for oversight of oil and gas development in California.
Read the executive summary here.
Find the full report here.
Read our issue brief Fracking in California: Overview here.
Read our issue brief Fracking in California: Water Use and Sources here.
Read our issue brief Fracking in California: Wastewater Handling and Disposal here.