California Agricultural Water Use: Key Background Information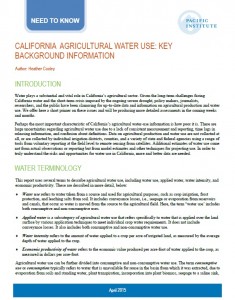 California Agricultural Water Use: Key Background Information
Overview
California is a key producer of agricultural goods that are consumed all over the world. However, the periods of drought that are part of the state's climate, which are made more frequent and intense by the effects of climate change, tax the state's limited water supply.
Agricultural use accounts for an estimated 80 percent of overall water use in California. Yet a lack of standards in measurement and reporting, time lags in information, and confusion over definitions of key terms has left agricultural water use data incomplete and inconsistent. Author Heather Cooley argues that in order to truly understand the risks and opportunities for water use in California, more and better data are needed.
This "Need to Know" issue brief was published as a response to growing concerns over California's water use during the period of severe drought that began in 2012.