Guide for Bringing Integrity to Companies' Water Stewardship Initiatives: A Framework for Improving Effectiveness and Transparency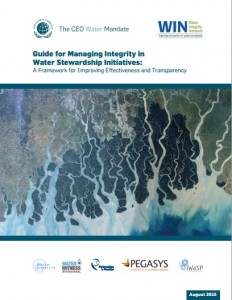 Overview
Today, the UN Global Compact's CEO Water Mandate announced the first comprehensive guide on forming multi-stakeholder water stewardship initiatives with integrity.
Launched at the CEO Water Mandate's annual meeting during World Water Week in Stockholm, Sweden, the Guide for Managing Integrity in Water Stewardship Initiatives: A Framework for Improving Effectiveness and Transparency recommends good practices for developing water stewardship initiatives in an inclusive and transparent manner that ensures sustainable water management.
The Mandate's multi-stakeholder sessions in Stockholm this year focus on bringing together a variety of experts from the private sector, civil society, governments, UN Agencies, and others to explore critical issues that advance corporate water stewardship and help to meet the anticipated Sustainable Development Goal on Water and Sanitation.
Launched in 2007 by the UN Secretary-General, the CEO Water Mandate is overseen by the UN Global Compact and implemented in partnership with the Pacific Institute, a global water think tank.
The guide was developed by the CEO Water Mandate and the Water Integrity Network (WIN), in collaboration with Deutsche GesellschaftfürInternationaleZusammenarbeit (GIZ), Water Witness International, Partnerships in Practice, and Pegasys, and includes an interactive online tool.
"This year, a new set of Sustainable Development Goals, which will replace the UN Millennium Development Goals, will be released. One of the key implementation mechanisms highlighted for achievement of these goals is multi-stakeholder collaboration and partnership," said Gavin Power, Deputy Director of the UN Global Compact and Head of the CEO Water Mandate. "This guidance arrives at a pivotal moment to steer the development of local water collaborations that will help meet not only the dedicated UN goal on water, but also other cross-cutting goals as well."
The guide provides a set of seven operational principles for ensuring integrity in water stewardship initiatives. They are divided into three categories: (1) outcomes that the initiative is trying to achieve; (2) behavior of the participants in the initiative; and (3) processes that govern the initiative. Implementing activities to achieve these principles can ensure the long-term, positive outcome of the collective action.
Jason Morrison, Technical Director of the CEO Water Mandate and Program Director of the Corporate Sustainability Program of the Pacific Institute,added:"There is increasing interest by the private and public sectors to work with one another to address water challenges. However, lessons from early collective action projects point to potential risks for all involved if they are not inclusive, do not address the issues of most importance for local stakeholders, and are not carried out in a way that contributes to sustainable water management."
Lotte Feuerstein, Program Coordinator at WIN, said,"This guide gives anyone interested in developing a local water stewardship initiative a framework for how to approach integrity issues as well as a suite of practical tools to support implementation. We hope these guidelines help all sectors involved in multi-stakeholder collaborations—particularly those in the private sector and civil society—to implement joint projects in a way that serves the public interest and safeguards their credibility."
About the CEO Water Mandate
Launched in July 2007 by UN Secretary-General Ban Ki-moon, the CEO Water Mandate is a public-private initiative designed to assist companies in the development, implementation and disclosure of water sustainability policies and practices. Led by the United Nations Global Compact in partnership with the Pacific Institute, the CEO Water Mandate offers a unique action platform to share best and emerging practices and to forge multi-stakeholder partnerships to address the problems of access to water and sanitation. The CEO Water Mandate has been endorsed by roughly 140 companies from a range of industries and sectors.
About the Water Integrity Network
The Water Integrity Network (WIN) promotes integrity to eliminate corruption and increase performance in the water sector worldwide. To achieve this mission, WIN connects, enables, and promotes the work of organizations and individuals who recognize the impact of corruption—especially on poor and disenfranchised communities—work to assess risk, and promote practical responses. Formerly hosted by Transparency International, the WIN global network is formally led by the WIN association and supported by the WIN Secretariat in Berlin.
Resources