By Giuliana Chaves Moreira  
The answer to this question is not simple, but there are recommendations that all countries around the world can take into consideration 
The COVID-19 pandemic has brought up problems and challenges related to basic sanitation, as this is not only a global health crisis, but also a social crisis that affects the lives of millions of people living in vulnerable situations.
COVID-19 and the Global Setback on the UN Sustainable Development Goals
Hand washing is key to fight COVID-19, according to WHO recommendations. Unfortunately, this essential and fundamental measure to prevent the spread of the disease is still inaccessible for the 780 million people around the world who lack access to an improved water source and the 2.5 billion who lack access to proper sanitation. In fact, 844 million people in the world – one in nine – do not have clean water close to home (WHO, UNICEF and JMP, 2017)1. And 2.3 billion people in the world – almost one in three – do not have a decent toilet of their own (WHO, UNICEF and JMP, 2017)1.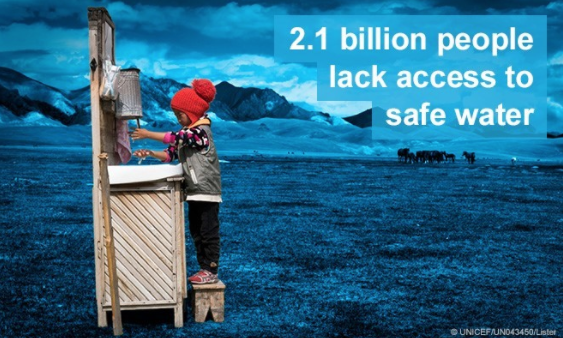 Credit: UNICEF 43450 Lister 
A recent United Nations report provides an analysis of the implications of the pandemic for the 2030 Agenda and the Paris Agreement. According to this report, a prolonged global economic slowdown will adversely impact the implementation of the 2030 Agenda for Sustainable Development and the Paris Agreement on Climate Change.  These adverse impacts will be felt around the world, but especially by people living in vulnerability. SDG 11 calls for making cities and human settlements inclusive, safe, resilient and sustainable. But as the following figure highlights, populations living in slums face higher risk of exposure to COVID-19 due to high population density and poor sanitation conditions.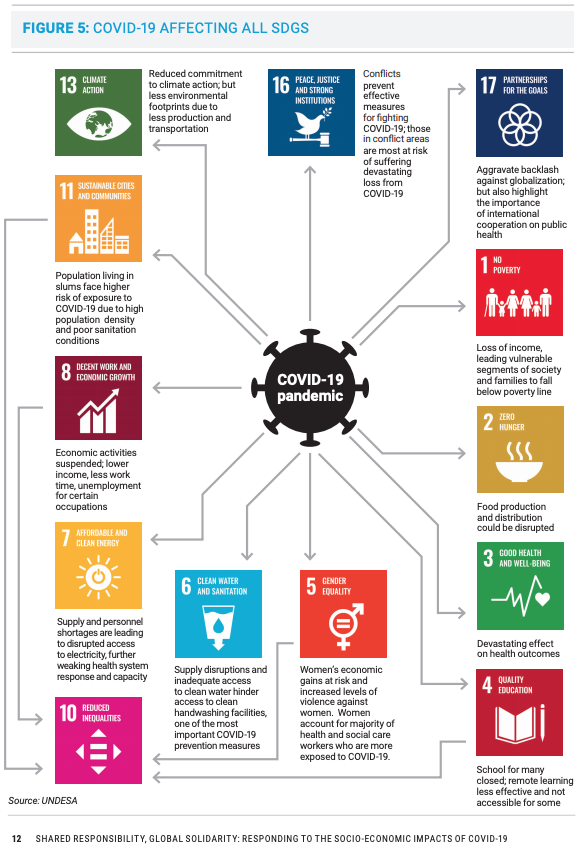 Credit: Undesa, Shared Responsibility, Global Solidarity: Responding to the socio-economic impacts of COVID-19 
An Opportunity to Build More Sustainable and Equitable Societies: Focus on Brazil
The UN report provides several recommendations and insights on how nations can deal with the crisis, leveraging this opportunity to build sustainable societies. Special attention is given to the most vulnerable people living in developing countries, as the poorest and more vulnerable people are at a disadvantage and will be the hardest hit. On average, developing countries spend only about two percent of gross domestic product (GDP) on health, compared to the global average of 4.7 percent, contributing to poorer health outcomes.
As an example,  despite being ranked ninth out of the Top 20 Economies in the World based in its GDP, in Brazil roughly half of the population – 100 million people – live without adequate sanitation or any kind of wastewater treatment, while 35 million Brazilians do not have access to safe drinking water. Water and sanitation are basic human rights that should be guaranteed to all citizens, yet they are neglected for half the population in Brazil, and have been for years. According to the study Panorama of the private sector's participation in sanitation, published in 2019, the need for greater investment in sanitation in Brazil is an urgent priority.
While investments have failed to meet the country's needs for health, social welfare, and environmental stewardship, it can be done. To change this scenario, it would be necessary to invest R$20 billion per year in sanitation (around $3.6 billion USD). This level has never been reached. In 2016, for example, R$11.33 billion (around $2 billion USD) was invested in sanitation (0.18 percent of the national GDP). In 2017, investment fell to R$10.05 billion (around $1.8 billion USD). (The Brazilian National Sanitation Plan investment target for the sanitation sector is 0.33 percent of GDP).
The study Comparações Internacionais: Uma Agenda de Soluções para os Desafios do Saneamento Brasileiro (International Comparisons: An Agenda of Solutions for the Challenges of Brazilian Sanitation), conducted by the National Confederation of Industry, discusses the main challenges of the sector, characterizing sanitation as one of the most backward segments of Brazilian infrastructure with a reasonable investment deficit, in relation to other countries with per capita GDP comparable to that of Brazil.
The tragic situation of Brazilian sanitation is reflected in the country's precarious sanitation indicators, a consequence of insufficient investments in the sector. The comparison of Brazil with a sample of other countries and other infrastructure sectors in Brazil suggests an anomaly in the Brazilian case; given Brazil's level of GDP per capita, the country should have greater sanitation coverage. The following figure shows this fact through a simple trend line per capita containing the positive association between per capita GDP and sewage treatment. It would be expected that, for the level of per capita GDP in Brazil, the coverage of sewage treatment would be higher.

Source: Adapted from International Comparisons: An Agenda of Solutions for the Challenges of Brazilian Sanitation. 
Brazil versus California: The Golden State Shows Water Expenditures Pay Off California
California presents a really expressive result for the culture of rational use of water and water recycling. Analyzing the evolution of the population and water demand in Los Angeles in the 30 years between 1980 and 2010 (see figure below), the culture of rational use of water is evident. Despite the increase in the number of inhabitants, there was a decrease in water use per capita and in total demand.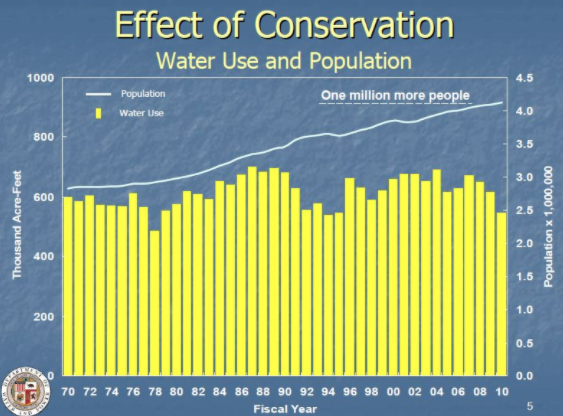 One of the best measures of Mono Lake's protection is the flat trend of Los Angeles's water supply since 1970, thanks to the extraordinary and still-needed water conservation efforts of the city's population, which have reduced per capita water use to under 150 gallons per day.  Source: DWP 
In the São Paulo Metropolitan Region (SPMR), on the other hand, in the past decades water demand has risen along with the population. São Paulo alone is home to around 22 million people, and the population has risen by 20 percent over the past 20 years, along with daily water use, which is currently at 180 litres per person.  
According to the National Sanitation Information System (SNIS) the average water consumption per capita in Brazil in 2018 was 154.9 liters per capita per day (which is equivalent to 40.98 GPCD or gallons per capita per day). The average for the State of São Paulo for the year 2018 was 169.3 liters per capita per day (which is equivalent to 44.79 GPCD or gallons per capita per day). 
According to the most recent dataset available in the portal of the California State Water Resources Control Board, the average residential gallons per capita daily use (R-GPCD) in the area served by the Los Angeles Department of Water and Power was 60 gallons (in February 2020). There was a small reduction in water consumption between February 2018 and February 2020. During this period, consumption decreased from 69 to 60, corresponding to 13 percent.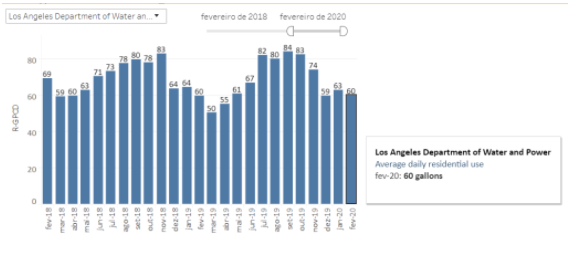 Average daily residential use – Los Angeles Department od Water and Power from February 2018-2020. Source: Portal of the California Water Resources Control Board. 
According to the "Our County Water Briefing" developed by UCLA, LARC, Liberty Hill, and BuroHappold and published in June 2018, total water demand decreased by over 25 percent in 16 years, dropping from 200 gallons per capita per day (GPCD) in 2000 to approximately 146 GPCD in 2016 (with potable consumptive demand down to 110 GPCD). In response to the record drought, total annual water use decreased by 16 percent in 2015 compared to 2013, and another one percent in 2016.
Brazil, on the other hand, has experienced an increase in water demand. The chart below from the study published as part of a report from the Bulletin of the American Meteorology Society on extreme weather events across the world in 2014 shows how population and water demand have increased in São Paulo in recent decades.
An increase in water demand without corresponding supply can have serious consequences. The researchers of this study found that climate change was not a major influence on the major drought in southeastern Brazil in from 2014 to 2015. While the lack of rain was unusual, it was not unprecedented, with similar conditions seen during previous major droughts. The main reason for the water shortage experienced during this drought was the increased population and demand for water, according to the study.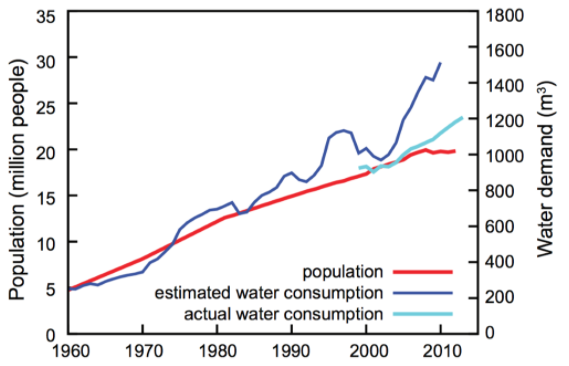 Population of São Paulo metropolitan region (red line) over the period 1960–2012 and estimated (1960–2010, blue) and actual (1999–2013, aqua) water use in Greater São Paulo over the period 1960–2010. Source: Otto et al. (2015). Source: https://www.carbonbrief.org/climate-change-not-a-major-influence-on-brazil-drought-study-says 
Unlike Brazil, Los Angeles invests heavily in water supply. The total capital water investments by the Los Angeles Department of Water and Power proposed for the fiscal years 2018-2019 was $891 million USD. (In the fiscal years 2017-18 the approved total capital investment in water was $861 and the estimated was $768.) In the São Paulo Metropolitan Region (SPMR), on the other hand, in 2018 an investment of R$4.2 billion (approximately $816 million USD) was carried out by Sabesp, a leader among the companies that invest the most in basic sanitation in Brazil. Of this total investment, R$2.3 billion (around $407 million USD) was allocated to expand water supply infrastructure, in addition to the structural strengthening following the most severe water crisis in SPMR in the 2014-2015 biennium. 199 thousand new water connections were installed, surpassing the target set by 18.5 percent. R$1.9 billion (around $336 million USD) was allocated to expand the structure of sewage collection and treatment in the operating area. As a result, 215,000 new sewage connections were installed throughout the State of São Paulo, surpassing the target for the period by 7.6 percent.  These numbers show that investments in water supply were similar to Los Angeles, but the investments in sanitation were low, representing only R$1.9 billion (approximately $336 million USD).
WHO points out that for every dollar invested in water and sanitation, $4.30 USD is saved in health care costs. A recent report by Lixil, WaterAid, and Oxford ranked Brazil third out of the top 10 global ranking countries for economic loss due to poor sanitation. Meanwhile, private organizations linked to sanitation recently showed that ensuring universal access to sanitation in Brazil would allow  $314.4 million to be spared in health care every year. Poor sanitation has proven expensive in Brazil, causing a loss of nearly $25 million USD in 2017 due to hospital admissions stemming from diseases related to poor sanitation and limited access to quality water. For that year, health authorities reported 263,400 admissions. The number is high, despite the decrease from the previous year's 350,900 admissions, and costs that year adding up to $31.47 million USD. This scenario reflected the investments in sanitation made in this period; in 2016, when the country applied more investments in sanitation (around $2 billion USD), health benefits of sanitation for the population were noted, with less hospitalizations in 2017 compared to the previous year when those investments were made.
Businesses Taking Action to Mitigate the Impacts of COVID-19 in Brazil
Brazil's total number of confirmed deaths has now overtaken WHO's figure for China, with 71,886 confirmed cases as of April 29th. Like other countries, Brazil was not prepared to face this unpredictable pandemic. However, the country's existing water and sanitation access challenge, which was already huge, was aggravated by the pandemic. The investments made in water and sanitation, which were already insufficient, will now have to be used to adopt emergency measures to combat the spread of the virus.
Fortunately, we have seen a number of new business efforts and initiatives being intensified and/or created in the country in response to the pandemic. One example is the action carried out by the Basic Sanitation Company of the State of Sao Paulo (Sabesp) that  expanded the distribution of water storage tanks to more neighborhoods in Sao Paulo. These donations are intended to prevent people from running out of water when emergency repairs or preventive maintenance in the networks supplying their water are needed.
This effort should help reduce the impact of COVID-19 on the routine lives of citizens.  The effort was started in the second largest slum in São Paulo, Paraisópolis, which has more than 100,000 residents. Sabesp announced that it will distribute 1,200 water storage tanks to residents of Paraisópolis, south of São Paulo, who do not yet have a tank at home. It is also important to note that many residents are without water not because of the lack water storage tanks, but because of the continuous interruptions in supply. This fact became even more relevant with the increase in cases of COVID-19, as the main recommendations include frequent hand washing and house cleaning. In an attempt to prevent water shortages at this crucial moment, the Public Ministry of the State of Sao Paulo initiated a public civil action. The action asks that Sabesp and the state government present a timetable to guarantee the daily supply of drinking water in all the Sao Paulo slums.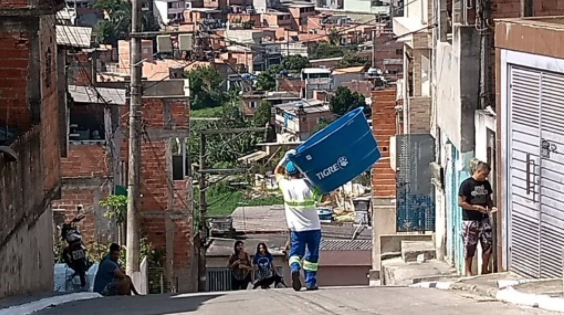 Credit: Sabesp/Facebook/Reprodução 
In this moment when extra care is needed to preserve life, and empathy and acting with responsibility have been fundamental, cooperative action between brands is more important than ever, because it allows companies to expand reach and act more quickly in areas of low income and high vulnerability. 
For this purpose, in an unprecedented partnership, Fiat, NIVEA, Sabesp, Deep, Instituto Olga Kos, and the advertising agency Leo Burnett Tailor Made have joined forces on the "The Fight Belongs to Everyone" initiative, a co-branding action aimed at facilitating access to essential hygiene items in the midst of the COVID-19 pandemic. The action aims to deliver a total of 230,000 personal hygiene products to 53 institutions, benefiting  around 60,000 people. Donations began in April and will be made until the end of May, with deliveries made in cycles every 15 days, to supply the largest possible number of beneficiaries during the period in which health authorities consider the most critical in terms of contamination by COVID- 19. Products made available by NIVEA will be taken in Fiat cars to the five main metropolitan areas of São Paulo with a higher concentration of people living on the streets or in areas of high social and environmental vulnerability. Meanwhile, NIVEA is producing and distributing sanitation items in areas of high social vulnerability, while Sabesp will expand sewage collection and treatment infrastructure through works that are already underway within the "Novo Rio Pinheiros" program, which aims to clean up the tributary streams of the Pinheiros River. The Olga Kos Institute, an NGO that has been operating since 2007 in Sao Paulo, will help to mediate in low income and high vulnerability regions. Leo Burnett is coordinating the partnership.
The "The Fight Belongs to Everyone" initiative is a great example of the power of collective action. Another great example in Brazil is the measures that Aegea Saneamento (Aegea) is undertaking to cope with the impacts of COVID-19. Created in 2010, today Aegea is the largest private sector sanitation company in the country. It serves more than 8.9 million people in 57 cities throughout Brazil. In response to the COVID-19 pandemic, the company has adopted a series of health and safety recommendations for employees engaged in essential service maintenance. Additionally, Aegea has taken measures to provide extra support to its customers, through a call center, digital channels, and door-to-door service. Additionally, the company reinforced its commitment to the public in municipalities in which it operates, through actions such as the disinfection of commonly used areas and donations of food and hygiene products for vulnerable populations.
Another initiative spurring business action on COVID-19 is WASH4Work, which mobilizes businesses to improve access to water, sanitation, and hygiene in the workplace, in the communities where workers live, and across supply chains. We have seen partners of the WASH4Work initiative respond to the pandemic by launching a number of new initiatives and projects. For example, Unilever is contributing to global and national efforts to tackle the COVID-19 pandemic through product donations, partnerships, and handwashing education programs. Unilever is also partnering with the UK government to fund a global program to tackle the spread of COVID-19. Through this program, the partners will contribute funding of up to £50 million each to raise awareness and change behavior, to ensure people are washing their hands with soap. The program plans to reach up to a billion people worldwide.
These examples show how business action on COVID-19 can make a crucial difference, especially for businesses directly involved in the provision of essential services like water. More widely, the business sector can play an essential role in combating the pandemic by contributing to the immediate and short-term pandemic response, since it is a great holder of economic power, a propeller of innovations and technologies, and a strong influencer of diverse stakeholders – governments, suppliers, employees, and consumers. Additionally, the private sector creates nine out of 10 jobs in developing countries. As such, businesses are in a unique position to impact billions of people every day, including those who work in their factories, farms, stores and offices, who supply and distribute their goods, and who buy and consume their products and services.
Moving Forward Together 
One of the main conclusions of the UN report mentioned above is that a joint effort among countries worldwide is needed; no country will be able to deal with this crisis alone. The report emphasizes that all countries have a responsibility to build effective solutions, which will require creativity and great magnitude in order to tackle the many social and economic dimensions of the crisis.
The main messages from the UN report Shared Responsibility, Global Solidarity: Responding to the socio-economic impacts of COVID-19 can help countries around the world mitigate the effects of COVID-19 while preparing for future pandemics:
Focus on people: Focus on women, youth, low-wage workers, small- and medium-sized enterprises, the informal sector, and vulnerable groups who are already at risk.
Collaboration among Nations: Whole societies must come together. Every country must step up with public, private, and civic sectors collaborating from the outset.
World-leading economies should be protagonists in the global response to COVID-19: This moment demands coordinated, decisive, and innovative policy action from the world's leading economies, and maximum financial and technical support for the poorest and most vulnerable people and countries, who will be the hardest hit.
Learning from this crisis and building back better: We must seize the opportunity of this crisis to strengthen our commitment to implement the 2030 Agenda and the 17 Sustainable Development Goals (SDGs). By making progress on our global roadmap for a more inclusive and sustainable future, we can better respond to future crises.
If the global community had been further along in its progress to meet the SDGs when the pandemic broke, we would be better equipped to face the challenge. Unfortunately, we were not prepared, and the pandemic is moving back decades of progress towards a more sustainable future. On the positive side, the pandemic presents a huge opportunity to revisit strategies implemented to date, and to prepare for a more sustainable future by building stronger health systems while better meeting basic needs and ensuring that fewer people live in extreme poverty. 
As the Brazil example illustrates, corporate action in response to COVID-19 shows the business sector can leverage its agility and partnerships to bring different sectors together quickly and effectively to scale action, an important lesson as factors like climate change and population growth reshape our world. In this new world, we will need "all hands on board" to ensure equity and the sustainable use of resources. It is vital that the global community not quickly forget this crisis, but draw lessons from it to rebuild more equitable and sustainable societies. This must include countries working together to ensure sustainable access to water and sanitation for the 40 percent of the world's population who still lack access.