By Ariana de Leña, 
Popular Education Associate
July 11, 2013
While a concept like freight transport can be overwhelming and full of jargon, starting with a simple question like "What do you feel, hear, smell, taste, and see when a diesel truck passes you on the street?" elicits a response from nearly everyone. It also creates an opportunity for people to be empowered by their own experiences and be more effective advocates for change.
On June 21, over two dozen Bay Area organizers, health outreach workers, and community health advocates gathered at the Pacific Institute for a daylong "Training-for Trainers" on Popular Education Tools for Community Health. Co-hosted by the Ditching Dirty Diesel Collaborative, the training explored the relationship between each participant's work and the chain of factories, ships, trucks, trains, and ports that moves products and raw materials around the world. The Pacific Institute developed the training activities and materials with members of the Ditching Dirty Diesel Collaborative, a regional coalition of community-based organizations, environmental advocates, and public health agencies working to reduce diesel pollution in the San Francisco Bay Area.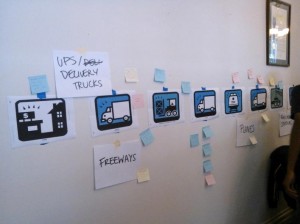 Using popular education, a philosophy that values participants as experts of their lived experience and seeks to illuminate their expertise through dynamic activities (think pair shares, games, visuals, etc.), participants shared their wisdom throughout the day and began to build connections across different communities' struggles.  Through activities like the "Freight Transport Scramble," participants realized that their broad body of work, ranging from asthma prevention to food justice advocacy to dust reduction, was underpinned by a single connecting thread: a global freight transport system connected by diesel-powered trucks, trains, and ships that gets the products we use from where they are made to where they are sold.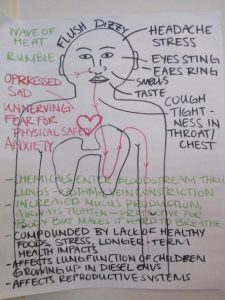 The Training-for-Trainers comes on the heels of the bilingual release of Gearing Up for Action: A Freight Transport Justice Curriculum Guide, which is now available free online in English and Spanish. Using activities from the Guide, participants practiced mapping the impacts of freight transport in their communities, learned more about the decision makers involved, and learned about how to use popular education tools to engage residents with whom they work in connecting freight transport issues to their everyday lives. Participants also flexed their new knowledge and skills by facilitating activities from the Guide, like the "Problem Tree" activity that helps them link "causes" of problems with freight transport to their respective "effects."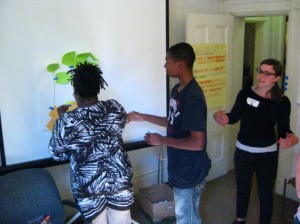 The day's activities highlighted the potential of giving people tools for speaking about and documenting their lived experiences with freight trucks and trains. After a full day of sharing and looking at freight transport through the lens of their day-to-day lives, participants clearly understood that freight's got everything to do with it.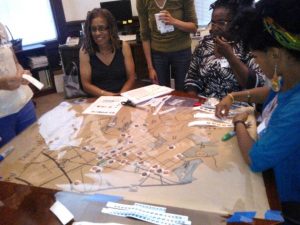 For more information, or if you would like to bring a workshop like this to your community, please contact Catalina Garzón at cgarzon@pacinst.org or (510) 251-1600 x 108.
Pacific Institute Insights is the staff blog of the Pacific Institute, one of the world's leading nonprofit research groups on sustainable and equitable management of natural resources. For more about what we do, click here. The views and opinions expressed in these blogs are those of the authors and do not necessarily reflect an official policy or position of the Pacific Institute.