The World's Water: 1998-1999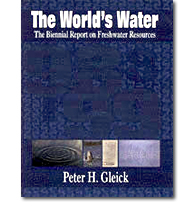 Published: September 1, 1998
Author: Peter Gleick
The first volume of The World's Water (1998-1999) includes chapters on the changing global paradigm for water management and use, the environmental implications of large dams, possible consequences of climate change, and the links between water resources and conflict. The book also contains more than fifty charts, tables, and maps that present data on a range of topics including the availability and use of water, numbers of threatened and endangered species, dam and desalination capacity worldwide, and much more.
Click to find data tables from World's Water 1998-1999:
The World's Water 1998-1999 Data
Table 13: Waterborne Disease Outbreaks in the United States
Table 14: Hydroelectric Capacity and Production by Country, 1996
Table 16: Desalination Capacity by Country, January 1, 1996
Figure 1.8: Desalination Capacity (chart)
Table 2.2 Estimates of Global Morbidity and Mortality of Water-Related Diseases
Order directly from the Island Press website.