West Oakland Health Survey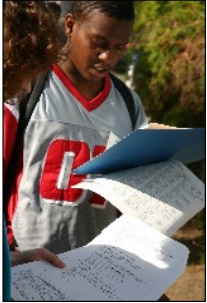 Published: November 2004
Authors: The Coalition for West Oakland Revitalization, The Prescott Joseph Center, West Oakland Asthma Coalition, The Pacific Institute
Violence, drugs and education were the top three concerns of a small group of West Oakland residents who took part in a pilot health survey conducted by the Coalition for West Oakland Revitalization (CWOR) in conjunction with the Pacific Institute and the Prescott Joseph Center.
Because the survey involved a small sample size, the results are not as definitive as those of a comprehensive survey, but despite these limitations, our initial survey uncovers a variety of health threats and challenges facing some West Oakland residents.
Almost 40 percent of adults surveyed reported no health coverage and an even greater portion (almost 60 percent) lack a regular source of medical care. While children were reported to have higher rates of health coverage than adults (15 percent were not insured), they have less regular medical care, with an alarming 64 percent of children without a regular source of medical care. This is disturbing news for West Oakland, where children are seven times more likely to be hospitalized for asthma than the average child in California.
The survey organizers are currently planning their next steps to address these concerns through community education and outreach.
Download the report (PDF).