Publication
---
Water Risk Hotspots for Agriculture: The Case of the Southwest United States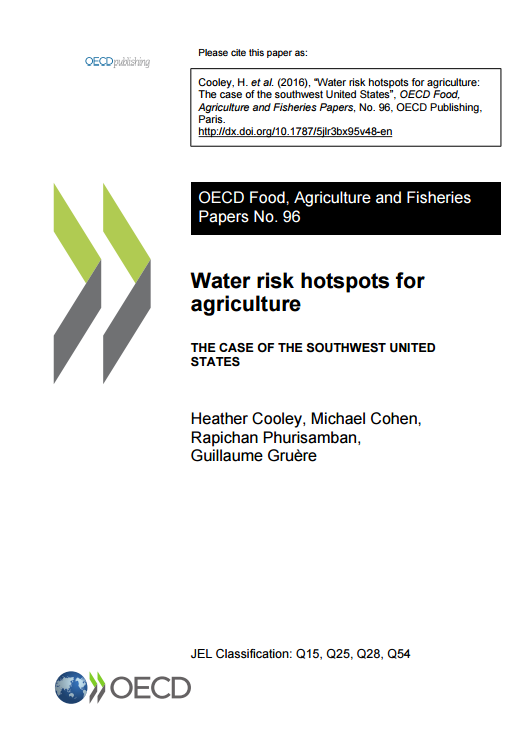 Published: September 2016
Authors: Heather Cooley, Michael Cohen, Rapichan Phurisamban, and Guillaume Gruère
Pages: 29
Full Report
Overview
Despite being the United States' most arid region, the U.S. Southwest – Arizona, California, Colorado, Nevada, New Mexico, and Utah – is one of the most productive agricultural regions in the world. Yet the region's crops depend heavily on supplemental irrigation, and climate change and increased water demand are putting pressure on the region's limited water supplies, raising concerns about the viability of agriculture in the U.S. Southwest.
This report, prepared in coordination with the Organisation for Economic Co-operation and Development (OECD), is a case study of the potential impacts of future water risks on agriculture in the U.S. Southwest by mid-century.
Droughts have a wide range of economic, social, and environmental costs. When less water is available in rivers or stored in reservoirs, less hydroelectricity is generated. Hydroelectricity is less expensive and, in most cases, less polluting than other electricity sources. The decrease in hydroelectricity generation must be replaced by other energy sources, such as natural gas.
Key Findings
Key findings:
The drought at the time of publishing is more severe than past droughts, and hydropower generation is at 10.5 percent of total electricity generation during the four-year period from October 2011 through September 2015, compared to 13 percent during the 2007-2009 drought and the 18 percent average in non-drought years. For the 2015 water year hydropower was especially low, providing less than 7 percent of total electricity generated in-state.
This analysis finds that during the four years ending September 30, 2015 (the end of the 2015 "water year"), the added economic cost to California ratepayers of reduced hydroelectricity production was approximately $2.0 billion.
In addition to the direct economic costs of replacing hydroelectricity generation, there are environmental costs associated with the additional combustion of natural gas, including increased air pollution in the form of nitrous oxides, volatile organic compounds, sulfur oxides, particulates, carbon monoxide (CO), and carbon dioxide – the principal greenhouse gas responsible for climatic change. Additional combustion of fossil fuels for electric generation led to a 10 percent increase in the release of carbon dioxide from California power plants.
As of early 2016, the drought continues: reservoir levels remain abnormally low, precipitation and especially Sierra Nevada snowpack are marginally above normal, and hydrogeneration is expected to continue to be below average until reservoirs refill. Thus, costs to California ratepayers and to the environment are expected to continue to mount.