Meeting Sustainability Goals: Voluntary Sustainability Standards and the Role of the Government
2nd Flagship Report of the United Nations Forum on Sustainability Standards (UNFSS)
Published: September 28, 2016
Authors: Mai-Lan Ha and Jason Morrison
With commentaries by Daniele Giovannucci, Aimée Hampel-Milagrosa, Pieter Glasbergen, Ulrich Hoffmann, Halina Ward, Norma Tregurtha, and David D'Hollander
Pages: 60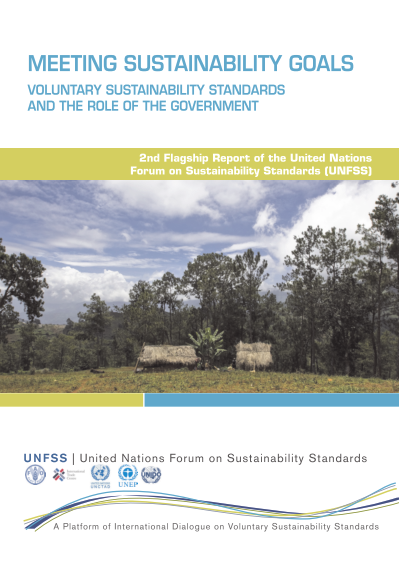 Voluntary Sustainability Standards (VSS) have emerged in the past two decades as standards specifying requirements relating to a wide range of sustainability metrics, including respect for human rights, workers' health and safety, decent income, environmental degradation, and others.
In 2013, the United Nations Forum on Sustainability Standards (UNFSS) issued the 1st Flagship Report which presented an array of salient VSS and public policy issues and developed an inventory of some of the leading initiatives working on VSS. One key theme highlighted in the first Flagship Report was the interplay of VSS and public governance (UNFSS 2013). In particular, the report elucidated tensions at the nexus of VSS and public governance, including conflict between the schemes and existing governmental positions and competition between government and private sector-led standardization efforts. These issues are brought into sharp focus when new VSS are being developed; one of the major critiques of VSS relates to whether, and how, governments are involved in the creation of emerging systems.
In September 2015, the United Nations (UN) member States adopted a new set of development goals to be achieved over the next 15 years, i.e. the 2030 Agenda for Sustainable Development and the Sustainable Development Goals (SDGs). The 17 goals and 169 targets included in the SDGs are to stimulate action in five areas of critical importance for humanity: people, planet, prosperity, peace and partnership.
The 2030 Agenda stipulate that the SDGs "are integrated and inseparable and balance the three dimensions of sustainable development: the economic, social and environmental", and encourage government, businesses, and civil society to promote synergies between their actions. In this regard, VSS, along international standards such as those developed by the International Organization for Standardization (ISO), may be expected to play an increasingly important role in complementing governmental engagement towards achieving sustainable development.
Against this background, this 2nd Flagship Report of UNFSS seeks to further dissect the interplay between VSS and public governance processes by striving to answer the following questions: what are the optimal dynamics between public policy processes and voluntary sustainability standards to ensure sustainability objectives are most effectively met?
In Chapter I, the report delineates how VSS can optimally contribute towards more sustainable patterns of development. In particular, it explores how governments can effectively support or engage with VSS in a way that advances the SDGs and the ways in which public sector engagement in VSS needs to be expanded or strengthened. Chapter II presents reflective commentaries of VSS experts on these questions.
You can read more about the report and download a copy here.
You can learn more about UNFSS here.