The CEO Water Mandate: Guide to Responsible Business Engagement with Water Policy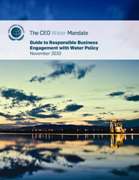 Published: November 15, 2010
Authors: Jason Morrison, Peter Schulte, Juliet Christian-Smith
Pages: 112
With water issues among the world's most critical sustainability challenges, businesses are facing increasing water-related risk to their operations. The just-released Guide to Responsible Business Engagement with Water Policy from the UN Global Compact CEO Water Mandate provides strategies for companies to turn risk into opportunity by advocating for water management approaches that meet the needs of business, communities, and nature.
The guide, drafted by the Pacific Institute in its capacity as the "operational arm" of the Mandate Secretariat in consort with WWF International, and with the support of Pegasys Strategy and Development Ltd and Water Witness International, helps redefine the way businesses respond to water challenges, focusing on the shared interests between the public and private sectors.
Five principles for responsible business engagement in water policy are outlined. The first speaks to intent; responsible engagement should be driven by a genuine interest in efficient, equitable, and ecologically sustainable water management. Second, there should be a clear division of public and private sector roles, with businesses supporting the government's mandate. Third, responsible engagement promotes inclusiveness and meaningful partnership. Fourth, businesses should recognize the connections between water and other policy arenas, and be mindful of the environmental, social, cultural, and political context. Finally, companies engaged in water policy must be transparent and accountable for their actions.
Download the full report (PDF).
Download the  Executive Summary (PDF).
Download the press release (PDF).