Publication
---
Testimony: Desalination Impacts before the Assembly Select Committee on Coastal Protection
Heather Cooley Testifies on Desalination Impacts before the Assembly Select Committee on Coastal Protection
Testimony Date: September 25, 2014
Pacific Institute Water Program Director Heather Cooley testified on September 25, 2014  in front of the Assembly Select Committee on Coastal Protection regarding desalination impacts. Heather spoke separately on desalination intakes and broader policy issues of desalination facilities.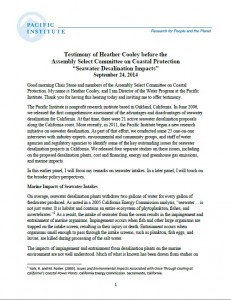 Reverse-osmosis desalination plants have shown to create substantial risks to marine life due to open water intakes.  Recognizing the environmental impacts associated with seawater intakes, Heather provides options measures to reduce and even eliminate impingement and entrainment from these intakes. Ms. Cooley also suggests adequate monitoring programs at multiple sites that improve understanding and transparency surrounding these impacts.
Read Heather Cooley's testimony on intakes here.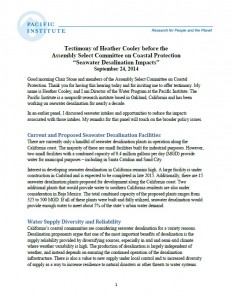 Ongoing interest in desalination projects has called for greater risk analysis and understanding of water supply. Regarding the broader policy issues of desalination , Heather speaks on the supply and demand of these facilities in terms of costs and financing, energy use, and associated risks. Based on these key issues, she acknowledges the potential for lowering demand involving production cuts and project closures.
Read Heather Cooley's testimony on policy issues here.