Pathways and Barriers to Corporate Water Stewardship in the Colorado River Basin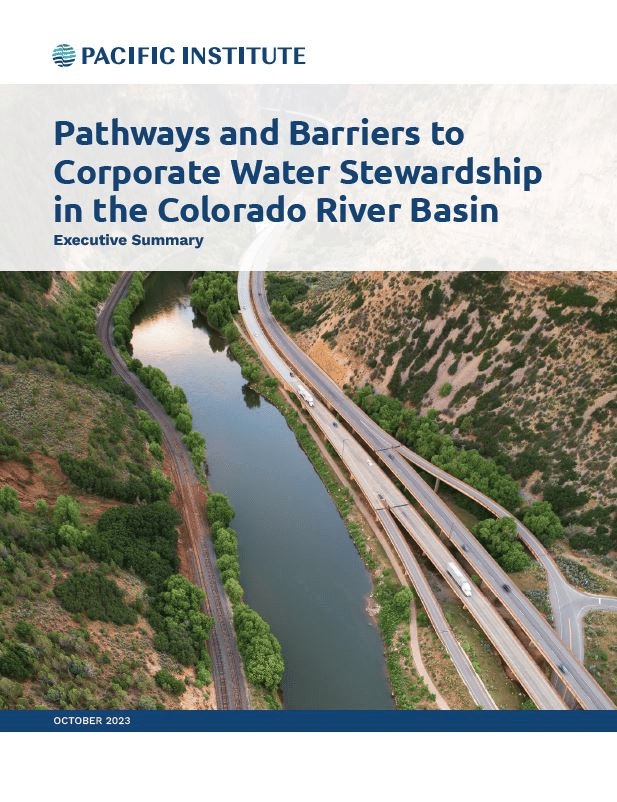 Pathways and Barriers to Corporate Water Stewardship in the Colorado River Basin
Overview
Spanning across seven US states and two Mexican states, the Colorado River – often referred to as the lifeblood of the American West – nourishes ecosystems, communities, farms, cities, and 30 Native American tribes. Yet, a 23-year drought, over-allocation of water, and climate change contribute to a structural deficit, threatening the tribes, ecosystems, and communities within its basin.
To advance water resilience in the Colorado River Basin (Basin), accelerated action and investment are required from all sectors. These efforts must be strategic, coordinated, and amplified to effectively tackle the Basin's challenges. Corporations can play a key role through their operations and supply chains, and by co-funding innovative projects. While a subset of leading companies is engaging in corporate water stewardship (CWS) in the Basin, more is needed to meet the magnitude of the water crisis at hand.
This report outlines barriers and pathways to CWS in the Basin based on 20 interviews with corporate and non-corporate stakeholders. The report adds to our ongoing efforts at the Pacific Institute to advance CWS in the Basin, including the work outlined in our Joining Forces: Innovative Co-Funding to Enhance Corporate Water Stewardship Impact in the Colorado River Basin report from May 2023. We are using these findings to prioritize CWS projects, initiatives, and approaches to pilot and scale in the Basin. More broadly, the findings are applicable to advancing CWS in support of long-term water resilience in the Basin and other water-stressed basins around the world.
Key Findings & Insights
The report sheds light on diverse perspectives, barriers, and pathways pertaining to CWS in the basin. A few findings stand out:
State of CWS in the Basin: While the majority of corporate interviewees view the Basin as a global priority region for CWS and have set basin-specific water replenishment targets, the majority of non-corporate respondents don't see these initiatives as effectively addressing the basin's challenges as they stand.
Barriers to CWS in the Basin: Corporations face multiple hurdles in implementing impactful CWS. These range from internal capacity limitations and a lack of essential data for evaluating water risks, to concerns about participating in water policy advocacy and balancing economic growth with sustainable water management.
Current and Potential Pathways: To address water challenges, corporations have been actively improving water management within facilities, funding water projects in the communities and watersheds where they operate, using their brand's reach to elevate awareness, and innovating with products and services. Our findings also suggest there's a need for more guidance on how corporations might best contribute to conversations about sustainable water policies. There was a strong emphasis on collaboration and collective action expressed across all CWS pathways discussed.
Additional Resources