Scaling Corporate Water Stewardship to Address Water Challenges in the Colorado River Basin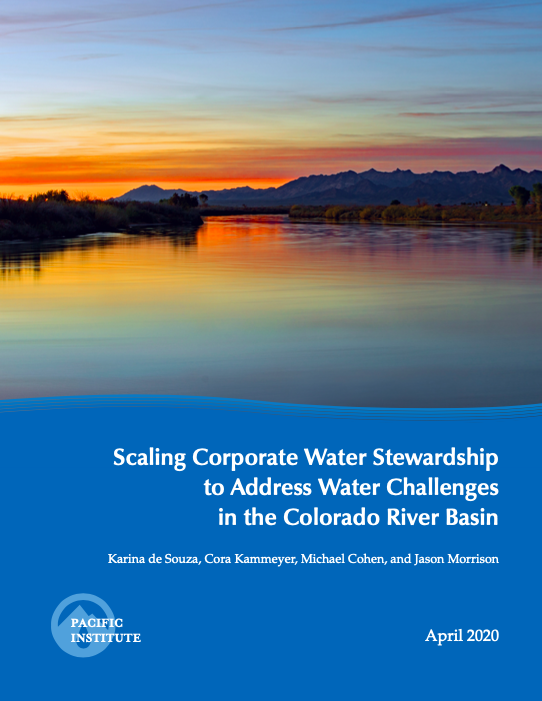 Scaling Corporate Water Stewardship to Address Water Challenges in the Colorado River Basin
Overview
The Colorado River Basin states face significant water challenges, including the overallocation of water, long-term drought, and climate change. This report, commissioned by the Walton Family Foundation, explores the potential for corporate water stewardship to help solve these challenges. Through corporate water stewardship, companies identify and manage water-related business risks, understand and mitigate their adverse impacts on ecosystems and communities, and contribute to more sustainable management of shared freshwater resources.
The report examines a set of key corporate water stewardship actions, along with associated drivers and barriers, to identify how the private sector could help address water challenges and advance water stewardship in the Colorado River Basin.
Ten associated case studies highlight examples of corporate water stewardship best practices applicable to the Western United States and the Colorado River Basin.
Key Findings
Corporate water stewardship in the Colorado River Basin is still relatively nascent. Compounding this challenge is the lack of forums, relationships, and institutions to help bring together diverse water users, including companies, who do not typically collaborate on shared water challenges. Two key strategies for advancing the maturity and reach of corporate water stewardship in the Basin are (1) to expand water stewardship education, decision-making data, and starter tools about the value of water stewardship and (2) to facilitate local collaboration on water stewardship.
Strategy 1: Support Water Stewardship Education, Decision-Making Data, and Starter Tools at the Global Level
Support improved corporate reporting on water use and stewardship activities.
Support online educational and risk assessment tools to help companies get started.
Support investor-led efforts to engage companies in corporate water stewardship.
Strategy 2: Facilitate Local Action on Water Stewardship
Target engagement on water-intensive industries in the Basin.
Target value chain engagement on industries with important supply chains in the Basin.
Support platforms to facilitate relationship-building and knowledge sharing between companies and NGOs, water utilities, and other key water stakeholders.
Resources