Op-Ed: Opportunities Are Plentiful to Sustain California Agriculture in the Face of Water Supply Uncertainties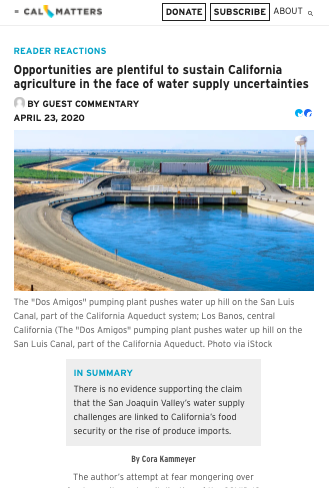 Op-Ed: Opportunities Are Plentiful to Sustain California Agriculture in the Face of Water Supply Uncertainties
Full Commentary
This commentary was published in CalMatters on April 23, 2020, in response to "California water policies inhibit food production by Valley farmers," April 16, 2020, CalMatters:
There is no evidence supporting the author's claim that the San Joaquin Valley's water supply challenges are linked to California's food security or the rise in foreign produce imports.
Drivers that do cause increasing importation of produce from other countries include:
Consumer demand for fresh, inexpensive produce year-round.
Fewer environmental, health and safety protections in foreign countries that drive down labor and production costs as compared to California.
Federal policies that encourage agricultural imports, including special rules that allow specific crops to be imported, and low tariffs for foreign produce.
It is also important to remember that while produce imports have increased, so too have produce exports. California's agricultural exports have increased twenty-fold in the past half century — from $1 billion in value in 1975 to $20 billion in 2017.
Nationally, we export about $40 billion of agricultural products annually. There is nothing wrong with importing or exporting food; we live in a global economy, which is extremely important to California's prosperity. Agricultural exports provide major benefits to California farmers.
California agriculture has made significant strides in reducing water use while maintaining or increasing crop outputs and revenues, by increasing efficiency and switching to higher value, less thirsty crops. There remain plenty of opportunities to sustain California agriculture in the face of water supply uncertainties, which can be done without compromising domestic food supplies.
The author's attempt at fear mongering over food security, and capitalization of the COVID-19 crisis and peoples' concerns about the safety and wellbeing of their families, is a blatant misrepresentation of the facts.