Laguna Riparian Enhancement Project
Laguna Riparian Enhancement Project
Overview
Laguna Riparian Enhancement Project
Laguna Division Lower Colorado River
Submitted to:
Michael Cohen
Pacific Institute
2260 Baseline Rd, Suite 205
Boulder, CO 80302
December 2007
Prepared by:
Natural Channel Design, Inc.
3410 S. Cocopah Drive
Flagstaff, AZ 86001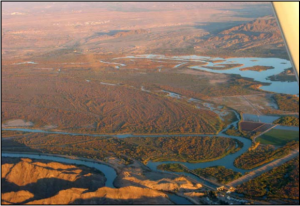 The Laguna Riparian Habitat Enhancement Concept presents a conceptual plan for improving native riparian vegetation and associated habitats within the Laguna Reach along the lower Colorado River (LCR). Various entities including the Bureau of Reclamation (Reclamation) are actively involved in protecting and restoring habitats along the lower Colorado River. This concept is intended to provide a basis for efforts to enhance or restore habitats within the Laguna Division for a variety of valuable fish and bird species and to stimulate discussion on ways to meet these goals.
The concept described does not address water rights issues.
The goal of the concept is to replace existing low-quality habitats provided by dense thickets of tamarisk with more productive, diverse communities of native riparian plant species. The concept design is driven by the following objectives:
• Maximize high quality native riparian plant communities and associated wildlife habitats.
• Maximize benefits from water required
• Minimize maintenance
• Protect existing infrastructure (canals, desilting basin, spoil area)
• Protect and/or enhance existing riparian habitat in "old river channel" and Mittry Lake […]