California Water 2030: An Efficient Future
Published: September 15, 2005
Authors: Peter Gleick, Heather Cooley, David Groves
Pages: 48
Pacific Institute Proposal Will Improve Efficiency, Protect Environment, Ensure Economic Growth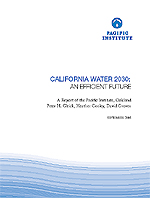 California can cut its wasteful use of water by 20 percent in the next 25 years while satisfying a growing population, maintaining a healthy agricultural sector, and supporting a vibrant economy. That's the central message of "California Water 2030: An Efficient Future," (PDF) a new report by the Pacific Institute of Oakland, California. The analysis, which provides a sharp contrast to the California Department of Water Resources 2005 Draft California Water Plan, details how smart technology, strong management, and appropriate rates and incentives can allow the state to meet its needs well into the future with less water.
"We need a new approach to California's water woes," said Dr. Peter H. Gleick, President of the Pacific Institute and co-author of the report. "The good news is that California can meet the needs of farmers, businesses, and a growing population well into the future without massive, and destructive, infrastructure projects – if we take a smarter, more efficient approach to water management."
"California Water 2030" describes in detail a "high efficiency" scenario for the state that will cut wasteful water use by 20 percent without harming the economy or our quality of life. And the benefits to this approach are many: Improving the efficiency of urban and agricultural users could help ameliorate the substantial stress California places on its rivers, groundwater aquifers, and wetlands while improving opportunities for business and recreation.
"The California Water Plan is a critical tool for state water planners, but as it now stands the DWR is delaying real action on conservation and efficiency for at least another five years – and we can't wait that long," said Heather Cooley, Research Associate for Pacific Institute's Water and Sustainability Program and co-author of the report. "Our report provides what is missing from the Water Plan: An aggressive, high-efficiency approach that will pay many dividends in environmental protection, increased reliability, and lower costs."
The Pacific Institute's high efficiency scenario stands in contrast to those contained in the California Water Plan, which assumes consistent growth and puts off the consideration of significant efficiency programs and policies for five
years (see graphs, next page). And in-depth research by the Pacific Institute (see "Waste Not, Want Not") shows that improving efficiency by 20 or even 30 percent is well within California's grasp – if the state can break free from its business-as-usual approach to water.
Download "California Water 2030: An Efficient Future" (PDF).
Download the Appendix.
Download the press release.