Publication
---
Bridging Concern with Action: Are US Companies Prepared for Looming Water Challenges?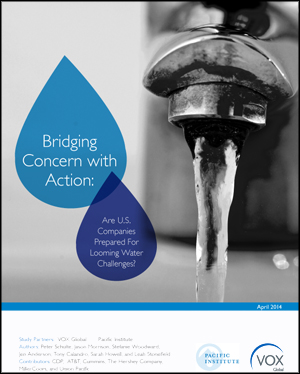 Published: April 2014
Authors: Peter Schulte, Jason Morrison, Stefanie Woodward, Jen Anderson, Tony Calandro, Sarah Howell, and Leah Stonefield
Pages: 43
Executive Summary
Full Report
Overview
In an attempt to gain insight into corporate perceptions of risks associated with water issues and plans to address these challenges, in 2013 and 2014 the Pacific Institute and VOX Global surveyed over 50 companies across industry sectors, the majority Fortune 500 and publicly traded. The research reveals most companies believed water challenges would significantly worsen in the next five years. However, the majority of companies surveyed did not appear to be planning corollary increases in the breadth and scale of their water risk management practices. This report gives insight into the internal processes and perspectives that inform corporate business engagement with water issues.
Resources