By Emily Laidlaw, Pacific Institute Researcher, Water and Climate Equity; Dr. Shannon McNeeley, Pacific Institute Senior Researcher and Water and Climate Equity Lead; Laura Landes, RCAP Senior Manager of Research; Lena Schlichting RCAP Research Specialist; Dr. Betsy Taylor LiKEN Executive Director; Dr. Deborah Thompson LiKEN Impact Director; and Dr. Maria Bareli LiKEN Social Scientist
Key Takeaways
Water access and infrastructure in rural, frontline communities across the United States are already being impacted by climate change.
These communities, which experience climate change impacts "first and worst," face numerous challenges in planning for climate-resilient rural water systems in terms of resource and capacity constraints.
Technical assistance for rural, frontline communities can enhance the climate resilience of their water systems by providing a framework to respond to climate impacts and emergencies.
​​​Co-development of climate-resilient water solutions requires building trust and capacity using a "community-first" approach that centers on each unique community's needs and elevates its voices.
Many frontline communities lack the capacity to apply for new federal water infrastructure funding; however, models exist for innovative and collaborative support.
---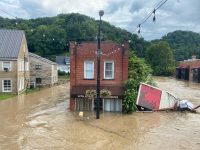 One out of every five Americans—approximately 60 million people—live in rural areas that provide critical water, energy, food, resources, and recreational opportunities for the entire country. Many of these Americans live in frontline communities—those that experience climate change impacts on their water systems "first and worst" due to a combination of socioeconomic, geographical, and infrastructure characteristics. Because these communities are particularly interlinked with natural systems, they are especially vulnerable to climate change. These communities need sustainable and feasible strategies and solutions that are developed through active community participation and outreach. This project is centered on community needs and perspectives to overcome challenges or barriers to climate resilience and leverage opportunities to develop and improve climate-resilient water systems. 
Climate Change Impacts on Water Infrastructure and Access in U.S. Rural, Frontline Communities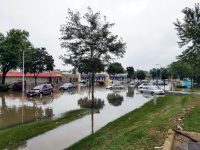 Climate change impacts on water infrastructure and access in rural, frontline communities are occurring simultaneously with increasing demand for clean, safe, and affordable water in the United States. These impacts are expected to increase over the coming decades as climate change accelerates. Climate impacts intersect with social vulnerabilities; underfunded, aging, or non-existent rural water infrastructure; and geographical characteristics to increase susceptibility to harm from the impacts of climate change. Observed changes include more frequent and worsening heat and cold extremes, prolonged droughts and aridification, worsening wildfires, and more erratic and extreme precipitation events. These changes all have profound impacts on rural water systems.
Extreme precipitation events have increased by as much as 55% in the Northeast United States since the middle of the last century, and by 10% in the arid Southwest, which is especially susceptible to flooding from heavy rainfall events given its dry, sandy soils and narrow canyonlands. Flooding and erosion from these precipitation events have mobilized sediments and pollutants in water systems, degraded water quality, interrupted water and wastewater services, and damaged infrastructure that was often built for historical climate conditions rather than current or future conditions. Average annual temperatures across the contiguous United States have risen by nearly 2°F since the beginning of the 20th century, and future projections show possible regional increases ranging from 3°F to as much as 12°F. Rising temperatures and increasing frequency and severity of heatwaves are creating more favorable environments for waterborne pathogens and accelerating the growth of harmful organisms such as hazardous algae blooms in water supplies.
More frequent and prolonged droughts—in conjunction with rising temperatures—are increasing evaporation rates, lowering soil moisture, mobilizing dust, and contributing to unprecedented low water levels in reservoirs and aquifers. Climate projections for the Colorado River Basin, a critical watershed for the Southwest United States, indicate that if current climate patterns continue, river flows are expected to decline by up to a third by mid-century, and up to half by the end of the century. Extreme events can also lead to power outages that result in inoperable drinking water pumps and water pressure loss, infrastructure failures that allow contaminants to enter water systems from surrounding soil and groundwater, and wastewater pump failures that can lead to the discharge of untreated sewage into rivers and streams as well as hazardous sewage backups in homes and businesses.
Climate impacts on water systems vary greatly by region, but are disproportionately experienced in frontline communities, which often face higher exposure to climate extremes and greater sensitivity because of socioeconomic characteristics and historical inequalities. For example:
Moving Toward More Resilient U.S. Rural Water Infrastructure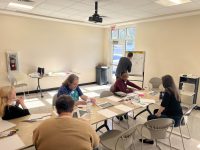 Frontline communities are working to improve their resilience to these types of impacts from climate change through myriad efforts, including the development of disaster management plans and mutual aid agreements, asset and vulnerability assessments, and improved communication. Rural, frontline communities are also exploring regional collaboration—collaborative activities by communities in the same geographic area that encompass both formal and informal partnerships—to increase affordability and provide greater financial flexibility. But care must be taken to ensure that such solutions are community led and benefit all the communities involved in the partnerships.
Many water systems in rural, frontline communities in the United States struggle to balance funding their water services, servicing and upgrading infrastructure, and maintaining affordability for customers—and other communities lack such services entirely. Federal grants, which have historically been the primary source of funding for water and wastewater services, often cannot be used for operation and maintenance costs. And although water and wastewater rates have risen at a rate more than double the Consumer Price Index, the majority of water utilities do not generate sufficient revenue to cover their financial obligations.
The American Society of Civil Engineers has reported that by 2024, only 10% of small drinking water utilities say they will be able to fully cover the cost of providing drinking water services to their communities and 36% of households will not be able to afford drinking water. The U.S. Environmental Protection Agency estimates that nearly $500 billion in infrastructure investments are needed for drinking water utilities nationwide by 2038, in addition to $271 billion for wastewater and stormwater upgrades.
The 2022 Bipartisan Infrastructure Law (BIL)—the largest investment in water ever made by the U.S. federal government—has committed more than $55 billion for the modernization of water infrastructure—particularly for marginalized, underserved, and disadvantaged communities—and more than half of this funding will be in the form of grants or forgivable loans designed to improve access to water resources for small, rural, frontline communities. The Infrastructure Law also includes $15 billion to improve aging infrastructure by replacing lead service lines, many of which are located in communities of color and low-income neighborhoods, and $9 billion to address emerging contaminants. The BIL also includes $2.5 billion to implement water rights settlements in Indigenous communities, as well as funding for water infrastructure development in these communities. However, communities must apply to receive this funding through a highly competitive and professionalized grant writing process. Many of the at-risk communities lack the needed expertise and resources for this process and may require technical assistance to effectively compete for funding. Thus, while this funding is an encouraging start, new systems are needed for dispersing financial and technical resources that are innovative, fairer, more efficient, and more accurately and flexibly adapted to local contexts.
Partnering to understand and leverage frontline communities' resources for resilience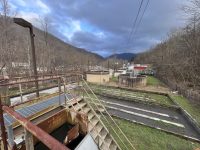 A partnership between Pacific Institute, Rural Community Assistance Partnership Incorporated (RCAP), and Livelihoods Knowledge Exchange Network (LiKEN) is assessing the risks and resilience of rural water systems in frontline communities to observed and expected climate changes—particularly across the contiguous United States also with a focus on the Southwest and Central Appalachia regions. This assessment aims to co-identify and co-design strategies and solutions for climate-resilient water systems with residents and leaders in rural, frontline communities. This partnership will leverage our organizations' expertise in co-developing collaborative, policy-relevant, multistakeholder research and knowledge exchange by providing technical assistance, training, and decision-support resources and tools to support rural communities.
In 2023, we will co-publish our research findings and developed resources, which will include:
An integrated assessment of the state of climate change impacts on water systems in rural, frontline communities in the contiguous United States.
Detailed information on challenges and opportunities for achieving and maintaining climate-resilient water systems in rural, frontline communities and related success stories.
A compendium of existing strategies and solutions that could be co-developed with frontline rural communities to achieve and improve climate-resilient water systems.
Publicly available guides and resources to help identify rural, frontline communities most in need of assistance, foster understanding of water systems in those communities, and promote water resilience under a changing climate.
Where We Go from Here
This blog provides a brief summary of some early key findings from our research and examples of climate impacts to water systems in rural, frontline communities in the contiguous United States. Over the next several months, we will continue to co-develop this work with community stakeholders and will produce free, publicly available resources to help identify and overcome challenges, maximize opportunities, and utilize solutions and strategies for climate-resilient water systems in rural, frontline communities.
Our research is currently engaging communities and ground-truthing climate resilience strategies and solutions – this includes working across a range of people from water-savvy individuals to those who are less informed about their water systems. We are working with in-community researchers to gather and archive information about water emergencies and extreme weather events. We have also formed advisory groups and alliances to draw on knowledge from existing networks of local to regional to national water organizations. In addition, we are working with communities to increase their capacity to apply for funding for climate-resilient water systems.
Ultimately, we will document best practices and lessons learned from water resilience success stories in rural, frontline communities and suggest ways to scale these so that additional communities can move toward more equitable, climate-resilient water systems. Watch for the release of our assessment report on climate change impacts on rural water systems serving U.S. frontline communities near the end of 2023 and stay tuned for other resources throughout the year. 
Learn more about the Pacific Institute's Water and Climate Equity focus area. 
Header Photo Credit: Matt Carter, ACLC