Pacific Institute leads on unprecedented water action by private sector, shares thought leadership on range of water topics
By: Dr. Amanda Bielawski, Jason Morrison, Mai-Lan Ha, Dr. Peter Gleick, and Heather Cooley
Key Takeaways
More than 700 commitments were made to the UN Water Action Agenda by governments, NGOs and others, but commitments are non-binding and lack the political "teeth" of the global climate and biodiversity agreements.
The Pacific Institute convened the private sector to make unprecedented commitments to water action, including more than 60 companies with nearly $4 trillion in market cap joining the Business Leaders' Open Call to Accelerate Action on Water.
The Pacific Institute also contributed thought leadership to help solve complex water challenges.
A UN water envoy, water scientific panel, and third UN Water Conference are planned.
---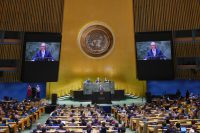 The long-awaited UN Water Conference, the first since 1977, concluded at UN Headquarters in New York City last month. Much was accomplished, but not nearly enough given the magnitude of the water challenges we face.
With progress on the Sustainable Development Goal for water (SDG 6) still "alarmingly off track," the conference must only be the start of a new collaborative global effort—to build water resilience in the face of climate change. This work is at the root of the Pacific Institute's mission.
Conference Outcomes
The UN Water Conference led to several significant outcomes. Here are five:
Voluntary commitments: More than 700 voluntary (non-binding) commitments were made to the Water Action Agenda. Among them, the US government pledged to invest up to $49 billion in climate-resilient water and sanitation (WASH). Continue reading to learn more about the Pacific Institute's commitment and two unprecedented Pacific Institute-led private sector commitments.
UN Special Envoy for Water: A formal recommendation to appoint a UN Special Envoy for Water was met with rousing support. Tanja Fajon, Deputy Prime Minister and Minister for Foreign and European Affairs of Slovenia, noted "He — or preferably she — would ensure visibility of water on the global political agenda, galvanize political will, strengthen coherence of action, mobilize additional funding, and secure the follow-up of the outcomes of this conference."
Scientific Panel: A new water-focused scientific panel may be created to advise on water issues. Many called on such a panel to be modeled after the influential Intergovernmental Panel on Climate Change (IPCC), which provides science-based climate information to inform climate-focused policies and investments.
Broader Participation: More than 10,000 participants from governments, the private sector, NGOs, and others participated, making the conference far more inclusive of cross-sector actors than its predecessor nearly 50 years ago. The conference also saw more, but not yet sufficient, participation from women, Indigenous Peoples, and youth. However, participation barriers were noted for some, especially those from the Global South.
Another Conference: The conference concluded with the recommendation to hold another UN Water Conference by 2028. While five years is too long to wait, this did signal increasing momentum.
During the closing plenary session, UN Secretary-General António Guterres underscored the criticality of water action to the global agenda: "As humanity's most precious global common good, water unites us all. That's why water needs to be at the centre of the global political agenda. All of humanity's hopes for the future depend, in some way, on charting a new science-based course to bring the Water Action Agenda to life."
Pacific Institute Leadership
As an integral participant at the conference, our delegation shared science-based research across multiple sessions. Working with our UN partners, we also convened the private sector leading to unprecedented commitments on water action moving toward 2030. Here are three highlights: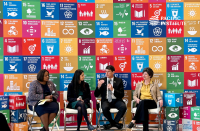 1. Water Action Agenda Commitment: The Pacific Institute's Commitment is highlighted as part of the official Water Action Agenda. By 2030, we commit the Pacific Institute to "deliver leading-edge thinking on priority water resilience strategies, including water efficiency, water reuse, and nature-based solutions," as well as to "support an enabling environment that promotes accelerated uptake of water resilience strategies, including through the Business Leaders' Open Call to Accelerate Action on Water." Our commitment takes a multi-benefits approach, noting contributions to a range of broader SDGs, including SDG 2 for hunger, SDG 5 for gender, SDG 7 for energy, SDG 13 for climate, SDG 15 for biodiversity, SDG 16 for peace, and others. Learn more in the second blog in this series about how our work supports multiple SDGs here.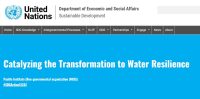 2. Corporate Action and Policy Advocacy: The Pacific Institute convened the private sector to make unprecedented corporate commitments to SDG 6. Much of this work was achieved through our leadership of the CEO Water Mandate, a partnership of the Pacific Institute and the United Nations Global Compact that unites 240 global companies to act on water. Here are some of the highlights: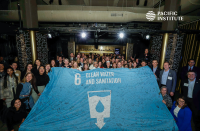 We announced the Water Resilience Coalition Investment Portfolio, a pipeline of more than US$1 billion of water investment opportunities to drive investments in water, sanitation, and hygiene (WASH), nature-based solutions, and water and climate resilience. Five companies–Starbucks, Ecolab, Gap Inc., Reckitt and Dupont–along with the US International Development Finance Corporation announced initial collective investment of nearly $140 million in the portfolio's first fund that aims to improve WASH access for 5 million people across Asia, sub-Saharan Africa, and Latin America. As part of the portfolio, Microsoft also announced a commitment of $50 million in investments to advance WASH access.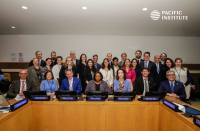 Led by a Pacific Institute effort, more than 50 of the world's largest companies joined the Business Leaders' Open Call to Accelerate Action on Water. In doing so, they committed to build water resilience across their own global operations and supply chains, as well as to collaborate with others to achieve collective positive water impact in at least 100 prioritized water-stressed basins by 2030. This swell of effort has grown to now include more than 60 companies, many of them Fortune 500 companies, with collective market capitalization of nearly $4 trillion, operations in more than 130 countries, and more than 3 million global employees. Watch the launch session here.
We also played a key role uniting the international water stewardship community on their ask of public policymakers. Together, a diverse range of stewardship organizations issued a joint statement outlining six key areas where government policies and actions would help accelerate the most promising business actions on water.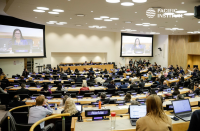 To spark new cross-sector partnerships between business, government, Indigenous Peoples, youth, and civil society, we also co-convened the official session Radical Collaboration for Water Resilience: Action with our Greatest Allies in the Climate Crisis.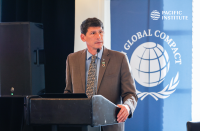 Further, the all-day offsite CEO Water Mandate event, Raising Our Ambitions for Water Resilience in 100 Basins by 2030, focused on new and innovative opportunities for collaborations, attracting more than 200 participants.
3. Science-Based Thought Leadership: More broadly, we lent our science-based research expertise to various conference sessions.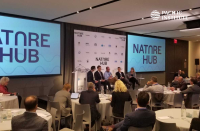 Our colleague Dr. Gregg Brill showcased the Pacific Institute's thought leadership on nature-based solutions at multiple sessions at the Nature Hub.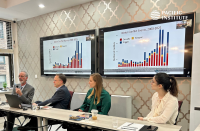 Based on our long-standing research on global water conflict, the Pacific Institute led an official UN Water Conference session exploring strategies for reducing water-related violence. "Reducing the risks of water-related conflict includes technological, economic, and political approaches and improvements in water management and use," said Dr. Peter Gleick, Co-founder and Senior Fellow of the Pacific Institute. The session, organized in collaboration with Circle of Blue, World Resources Institute, and the Hague Center for Strategic Studies, drew a packed room, as well as a large online audience. "The direct and indirect effects of water stress, such as migrations, good shortages and general destabilization, transcend national boundaries," said Liz Saccoccia, Water Security Associate for the World Resources Institute. Watch the session here.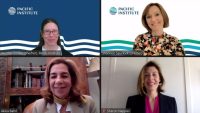 The Pacific Institute also partnered with the US Environmental Protection Agency on an official session to examine water efficiency and reuse opportunities and national and global strategies for promoting greater uptake. These powerful, albeit still underutilized, strategies enhance water sustainability and resilience. Together, they can substantially reduce the number of people suffering from water scarcity (SDG 6.4), enhance water quality (SDG 6.3), protect and restore water-related ecosystems (SDG 6.6), and reduce energy use (SDG 7.3) and associated greenhouse gas emissions (SDG 13), among other benefits. Panelists spanned diverse geographies and disciplines, including a high-level Tunisian authority who described innovative water efficiency and reuse approaches across Africa. Watch the session here.
A Paris Moment?
While much was achieved at the UN Water Conference, the outcomes were not alone enough to make sufficient progress on SDG 6. We can and must do more.
Perhaps most notably, the Water Action Agenda voluntary commitments made are non-binding. Water continues to lack the same type of formal global agreement between governments that biodiversity now finds in the Kunming-Montreal Global Biodiversity Framework, the historic commitment agreed to by nearly 200 countries last December to protect 30 percent of land and water important for biodiversity by 2030. Nor does water yet enjoy the same political "teeth" of the 2015 Paris Agreement, the legally binding international treaty whose 194 parties agreed to limit global temperature increase to 1.5 degrees Celsius.
While we hoped for a more comprehensive Paris-type moment for water, we will have to keep working to find it.
"This cannot be enough," said Henk Ovink, Special Envoy for International Water Affairs of the Kingdom of the Netherlands and Sherpa for the UN 2023 Water Conference. "After the conference, the world has to continue working hard to get water right."
Next Steps
We are doing just that. Moving forward, the Pacific Institute will continue to conduct and share open-source science-based research to inform water solutions, and to convene cross-sector actors to get the job done. Read more about our 2030 organizational goal to catalyze the transformation to water resilience in our Water Resilience Issue Brief here.
Read the first two blogs in this series here and here.
---