Current Information on the Salton Sea
California's Salton Sea is a fertile oasis in the hostile desert of southeastern California, adopted by millions of birds migrating along the Pacific Flyway. As California's largest lake, it stretches across almost 35 miles in a remote, below sea-level valley in the southeastern corner of the state. Current Salton Sea information is posted below.
The Sea faces a host of challenges, including a declining water supply, rising salinity, very high levels of nutrients that generate excessive algal growth and very low oxygen levels, and, to date, a glaring disconnect between the rate of change and the rate of efforts to address that change.
Salton Sea elevation, 06-Feb-2023:
-239.84 feet, NGVD 1929
Provisional data, subject to revision.
Source: USGS 10254005 Salton Sea NR Westmorland, CA
Time Series: Current/Historical Observations
Equivalent to: -237.7 feet, NAVD 1988
---
Area: acres ( sq miles)
Source: SALSA2 model
---
Volume: million acre-feet
---
Salton Sea elevation on 06-Feb, 2003 Baseline: feet, NGVD 1929
---
Change from 2003 elevation: feet
---
Reduction in Salton Sea area: acres ( sq miles)
---
IID dust control projects: acres
Source: IID
---
SSMP dust control projects: 755 acres
Source: SSMP
---
Habitat projects: 0 acres

---
Open water atop playa: acres
Source: Formation, End-of-Year 2020 Playa Exposure Estimate
---
Revegetation atop playa: acres
Source: Formation, End-of-Year 2020 Playa Exposure Estimate
---
Net exposed playa: ~ acres ( sq miles)
---
Changes in bird populations: fewer pelicans, fewer eared grebes, more ducks and shorebirds
---
Salton Sea elevation, January 2003 – June 2022: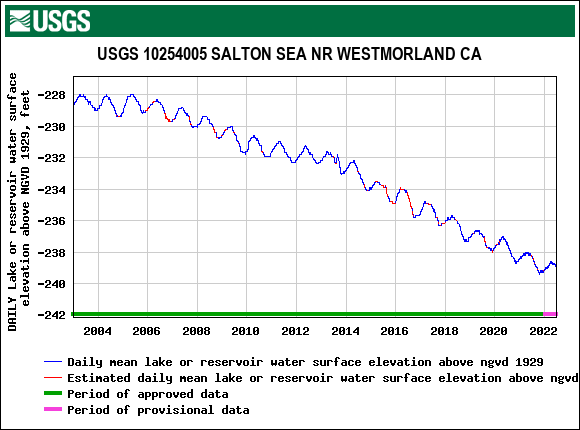 ---
Days since water mitigation ended: 1864
---
Salton Sea links:
---