California's Salton Sea is a fertile oasis in the hostile desert of southeastern California, adopted by millions of birds migrating along the Pacific Flyway. As California's largest lake, it stretches across almost 35 miles in a remote, below sea-level valley in the southeastern corner of the state. Current Salton Sea information is posted below.
The Sea faces a host of challenges, including a declining water supply, rising salinity, very high levels of nutrients that generate excessive algal growth and very low oxygen levels, and, to date, a glaring disconnect between the rate of change and the rate of efforts to address that change.
Salton Sea Elevation, 16-Feb-2020:
-237.50 feet, NGVD 1929
Provisional data, subject to revision.
Source: USGS 10254005 Salton Sea NR Westmorland, CA
"Time Series: Current/Historical Observations"
Equivalent to: -235.4 feet, NAVD 1988
---
Area: acres ( sq miles)
Source: Tetra Tech's 2014 Elevation/Area curve
---
Volume: million acre-feet
---
Salton Sea Elevation on 16-Feb, 2003 Baseline: feet, NGVD 1929
---
Change from 2003 elevation: feet
---
Reduction in Salton Sea Area: acres ( sq miles)
---
Dust Control Projects:
1,144 acres
Source: IID
---
Habitat Projects:
49 acres
Source: Natural Resources Agency, Salton Sea Authority
---
Passive Re-vegetation:
~1,800 acres
Source: Formation Environmental
---
Net Exposed Playa: ~ acres ( sq miles)
---
Changes in Bird Populations:
Fewer pelicans, fewer eared grebes, more ducks and shorebirds
---
Salinity (TDS):
| | 2003 | 2014 | 2015 | 2016 | 2017 |
| --- | --- | --- | --- | --- | --- |
| g/L | 45.6 | 55.8 | 57.5 | 58.6 | 61.3 |
| ppt | 43.6 | 52.8 | 54.4 | 55.4 | 57.7 |
2017 data reflect an average of March & June samples only (note that ppt is a mass/mass ratio, while g/L is mass/volume; they are not equivalent at higher salinities).
Source: Bureau of Reclamation
---
Days Since Mitigation Water Ended:
778
---
Salton Sea Links:
General Salton Sea Information from the Pacific Institute
General Salton Sea Information from the U.S. Bureau of Reclamation
Audubon's webpage on the Salton Sea
California's Salton Sea Management Program
California's draft Phase I: 10-Year Plan of the Salton Sea Management Program
November 7, 2017: California's State Water Board Adopts ORDER WR 2017-0134 on Long-Term Management of Salton Sea
Salton Sea Science Office of the U.S. Geological Survey
Salton Sea Authority website
Salton Sea Restoration and Renewable Energy Initiative of the Imperial Irrigation District
General Salton Sea and Vicinity Land Ownership and Management Map
Birds Observed at the Salton Sea from the Cornell Lab of Ornithology
Salton Sea Timeline from USA Today: "Salton Sea: A History of Broken Promises"
Salton Sea Elevation, Jan. 2000 – August 2019.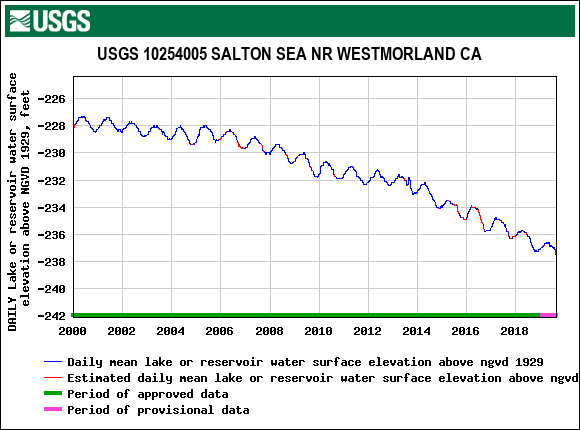 Source: USGS