By Peter Schulte
The complexity and local nature of the global water crisis requires collaboration, from community-based organizations to governments to businesses and others. Knowledge of water risks and opportunities can help businesses mitigate those risks and contribute to water security. 
Last month, Whetu and Columbia University's Columbia Water Center's launched its Certificate Program in Water Risk Management for the Private Sector.  This new online program helps businesses and others around the world understand the basics of the world's water challenges, how they affect businesses, and what the private sector can do to understand and manage those risks.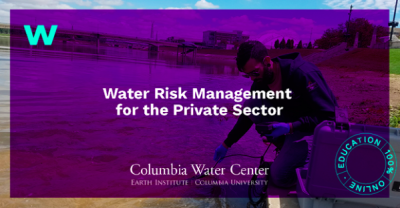 I have been delighted and honored to develop and teach the Certificate Program's module on water-related external engagement collective action. This module shows why and how businesses can partner with others to advance shared water goals – from watershed-level projects in areas of strategic importance, to engagement with key suppliers, to raising awareness and changing behavior among their consumers. Given the highly local and shared nature of water challenges, collaborations and partnerships are absolutely vital to businesses' managing their water risks and the world achieving Sustainable Development Goal 6 on water and sanitation.
The collective action module I led is just one of six course modules taught by top-notch experts in the field. The instructors include Upmanu Lall (Columbia Water Center), Paulina Concha Laurri (Columbia Water Center), Nick Martin (Antea Group), Paul Reig (World Resources Institute), and Kari Vigerstol (The Nature Conservancy), who all bring their own powerful perspectives to the discussion.
 In addition to lectures, each participant engages in an on-line learning decision-making experience that maps out consequences of choices on the topics covered under the six topics. At the end of the Program, participants are awarded a Certificate of Completion by Columbia Water Center, Columbia University.  
The complexity of today's water challenges requires a holistic approach empowered by a deep understanding of water risks, as well as effective techniques and tools to address these challenges. If you're at all interested in getting the skills to understand and address the world's water challenges from a business perspective, I highly encourage you to explore this great opportunity. There are no prerequisites to join.
Visit this page for more information.