By Paula Luu, Communications Manager
A few of you have reached out to me after I wrote about why water managers should invest in social media. It looks like I've managed to convince a few of you that it's worthwhile, but now what?
Here are a few tips and tricks to help you get things off the ground:
Figure out which social sites to engage on given your customers and goals.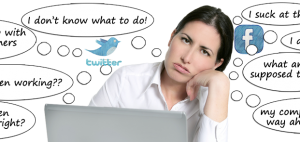 Getting started on social media can feel like a daunting task with all the different platforms available. YouTube or Vimeo? Should we pin? #Help!The truth is, there isn't one formula for every organization, water utility, or business.  Depending on your customers and goals, different social media channels may be more or less appropriate. The leading water managers I've seen on social sites use a combination of any of these heavy-hitters:  Facebook, Twitter, YouTube, Vimeo, Pinterest, Instagram, LinkedIn, and Slideshare. More on that here. That said, you don't have to sign up for every one of these channels, especially if your organization or company is just getting started or may not be able to commit to building and staying active on each site. It's better to be excellent with one or two channels than mediocre at five or six.
A good example of water utility social media use is Southwest Florida Water Management District (SWFWMD), which is active on Twitter, Facebook, YouTube, and Pinterest.  They were one of the first water districts I've seen utilize Pinterest and have managed to capture and engage their customers in a unique way. SWFWMD has pinned photos to several boards to showcase everything from local wildlife to Florida-friendly landscaping to beautifully painted rain barrels. Followers can then re-pin these links and images to their own boards to share with their followers or bookmark and access later.
No matter which social sites you choose to engage in, the most important thing to do before starting is to develop a plan for regular posting and updating so as not to lose focus once you're social. It will take time to grow a following, and during that time, your personality and messaging on all channels should remain consistent.
Utilize the contacts you already have to grow your network.
Regardless of which social media platform you use to communicate with your customers, chances are you already have some way of reaching out through snail mail or email. Use this list to build your followers base.
Invite customers to follow and like your page(s) in your next newsletter or bill. Put the links to your social pages on the homepage of your website. In order to attract followers, you could hold a contest where a few new followers can win a gift card they can apply towards their bill.
Once you've got a solid group of followers (200-500), invite them to invite their friends for other prizes and awards. The most valuable marketing available is word-of-mouth. People are much more likely follow a page if they get an invitation from a friend or family member or recognize someone from their friends list who follows that page. Referrals to your social media page will not only help you to quickly build your base of followers, it will also build quality followers. Remember, it is much better to grow slowly and have followers who regularly engage with you than it is to have a million followers who don't care about you or your mission.
Be interesting!
No one appreciates that friend who constantly talks about himself or herself. Same is true for businesses or organizations on social media. Your audience will quickly tune out if all you talk about is about your products, events, and media mentions. Post content from other sources that your followers would find interesting or valuable; do this more often than you post links to your website. Create a good mix of content that allows you to promote your campaigns or products without coming off like a used car salesmen.
Don't just be a sounding board – solicit feedback. Learn what your customers need and what they are interested in learning more about. Santa Clara Valley Water District posted a video that recapped a recent public meeting on design changes for Almaden Lake and asked for feedback from those who couldn't attend. More and more, water districts are asking customers to contribute to solving local water issues. For example, DC Water in Washington D.C. and the Thames Water  in the UK ask their Twitter followers to report leaks around town by tweeting them in. Having this kind of two-way dialogue can also facilitate more effective communication during events such as emergencies or changes to water rates.
Listen and respond. When something begins trending on social media channels, and it relates to the interests of your followers, speak up. Join the discussion and become a leading voice on these topics.  The day the Indian TV show Satyamev Jayate premiered an episode in which one of the leading charactersfelt the pressures of water scarcity, the hashtag #ConserveWater was the number one trending topic on Twitter in India within an hour after the show was aired. People interested in a particular issue are already congregating around online conversations. Stay connected beyond just your followers; seek out these conversations and jump in.
Collaborate and network.
Social media allows you to take in information, respond, communicate, and collaborate. As you get into your posting routine, look for partner organizations or businesses that might be working on the same issues and consider collaborating on a social media campaign. Ask customers and colleagues in the industry to contribute a guest post or video. This fosters a sense of community and adds value to the people who visit your social pages.
The Pacific Institute recently worked with Sacramento County to build a river-friendly calculator to help promote ways for residents and businesses to beautify their yards and landscapes while saving water, energy, and money, and even reducing their carbon footprint. We tweeted and posted their "Aspire to be River Friendly" contest on Facebook and promoted the $500 Green Acres gift card prize. Promoting the contest on our social media channels allowed for more coverage of the contest, and more importantly, got more people to try the river-friendly calculator.
In addition to working with partners to leverage each other's social networks, there are tools like Thunderclap that allow you to create viral messages. Users create a single message on the crowdspeaking platform to be mass-shared so it rises above the noise of your social networks. You post a message on the platform with a target number of likes and the date you want the message to be sent. Users like your message, and if you reach your target number of likes, your message gets posted on each of the likers' profiles on the date you've chosen – instant viral hit. It's a great tool for smaller businesses and organizations to amplify their message without having to establish a following of 100,000.
The tips and tools I mention here are just the tip of the iceberg but a good start. There are several (free!) tools that help you manage, track, and amplify your presence on social media channels.  Just remember, Rome wasn't built in a day. Successful social media efforts are nuanced and require time, but if you learn to understand your audience, have regular interactions with them, and build relationships with partners and users, your investments of time and energy will pay off. If you have questions, feel free to reach me at @nicholuu on Twitter. Best of luck!
Pacific Institute Insights is the staff blog of the Pacific Institute, one of the world's leading nonprofit research groups on sustainable and equitable management of natural resources. For more about what we do, click here. The views and opinions expressed in these blogs are those of the authors and do not necessarily reflect an official policy or position of the Pacific Institute.