By Cora Kammeyer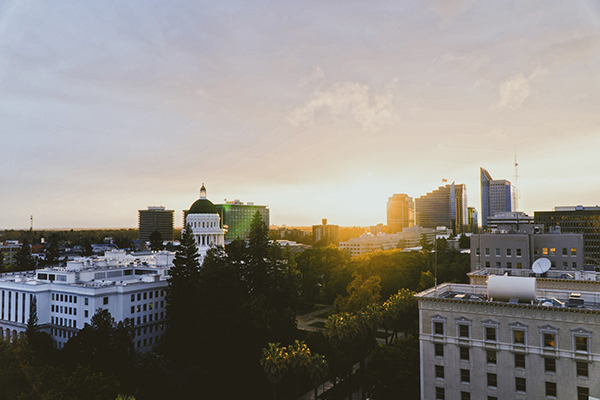 It goes without saying that California today, in the throes of the coronavirus pandemic, looks very different from the California of January 2020. Governor Gavin Newsom's May Revisions to the 2020-2021 state budget reflect this drastic change in circumstance, announcing a $54.3 billion budget deficit and proposing $18 billion in cuts to State funds expenditures. The dramatic slide from a $6 billion surplus to a $54.3 billion deficit is due to COVID-19, both the State's mobilization to address the crisis and the economic downturn the pandemic has caused.
Several of these cuts will directly affect the availability of funding to manage California's water resources, from safe drinking water, to groundwater sustainability, to stream restoration, and more.
While the real impacts of these budget cuts on water programs remain to be seen, the risk of a simultaneous water crisis and pandemic needs to be taken seriously. We are seeing what failure to invest in water systems during the time of a pandemic looks like around the world. From flooding and failing dams in Michigan and Virginia to lack of access to running water in Native American reservations across the US, as well as water crises in countries like India and Brazil, the compounding effects of COVID-19 and water-related emergencies are catastrophic. We do not want to see that combination play out in California.
This blog post provides a short summary of the proposed budget changes and their impacts on California water management. While the full details of what programs are being cut, and by how much, are not yet available, key pieces of information were pulled from the California Senate and Assembly budget revision summaries. Information on the total proposed State budget cuts for each California State agency and department can be found on the Governor's May Revision Budget Details website.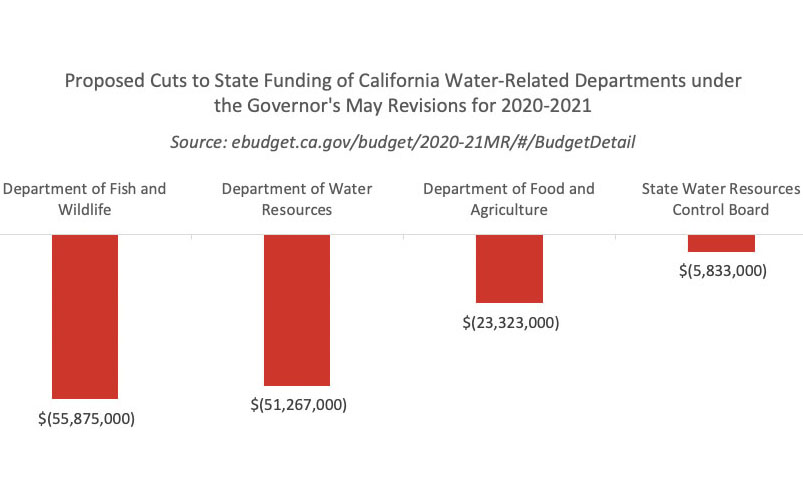 Department of Water Resources
Total proposed State budget cut: -$51,267,000 (-5.4%)
California's Department of Water Resources (DWR) protects, conserves, develops, and manages the state's water. DWR evaluates existing water resources, forecasts future water needs, manages the State Water Project's reservoirs and water delivery systems, and explores solutions to meet those needs. It also works to prevent and minimize flood damage, oversee dam safety, and educate the public about the importance of water and its efficient use.
The May Revision withdraws a number of State budget allocations to DWR proposed in January, including:
State Water Resources Control Board
Total proposed State budget cut: -$5,833,000 (-0.7%)
The State Water Resources Control Board (SWRCB), along with the nine Regional Water Quality Control Boards, promotes and enforces proper allocation, permitting, and use of California's water resources, and preserves, enhances, and restores the quality of the state's water resources. These objectives are achieved through the Water Quality, Water Rights, and Drinking Water programs.
The May Revision shifts $24 million of the SWRCB budget (beyond the $5.8 million cut) to come from Air Pollution Control Fund penalty revenues instead of the General Fund, on a one-time basis.
Department of Fish and Wildlife
Total proposed State budget cut: -$55,875,000 (-11.5%)
The Department of Fish and Wildlife (DFW) manages California's diverse fish, wildlife, and plant resources, and the habitats upon which they depend, for their ecological value and for their use and enjoyment by the public. This includes habitat protection and maintenance in a sufficient amount and quality to protect the survival of all species and natural communities.
The May Revision withdraws a number of State budget allocations proposed to DFW in January, including:
$33.7 million General Fund ongoing from DFW's state operations base budget. This reduction will be partially offset by an $18.9 million shift from the Habitat Conservation Fund to the new Biodiversity Protection Fund to support DFW's core biodiversity conservation and enforcement programs. This reduction may be covered by federal funding.
$13.8 million General Fund for the Advancing Biodiversity Protection proposal.
$80 million General Fund for Light Detection and Ranging (LiDAR) Technology.
Department of Food and Agriculture
Total proposed State budget cut: -$23,323,000 (-4.9%)
The May Revision withdraws the proposed $20 million General Fund for State Water Efficiency and Enhancement Program Grants.
Safe and Affordable Drinking Water Fund
The Safe and Affordable Drinking Water Fund is financed by revenues from California's Cap-and-Trade program. The May Revision maintains the Governor's January Budget proposal of a $965 million Cap-and-Trade discretionary spending plan, though the funds for this are likely to shrink because of decreased economic activity. The Revision establishes a "pay-as-you-go" budget mechanism to authorize expenditures based on proceeds received at each quarterly auction. This mechanism will prioritize the Safe and Affordable Drinking Water Fund, along with air quality, forest health, and fire prevention programs.
Climate Resilience Bond
The Climate Resilience Bond was a proposal to create a $4.75 billion bond for the November 2020 ballot to support investments to reduce climate risks in natural and built infrastructure. The Bond emphasized water, and was intended to allocate as much as 60 percent of the bond funding to water projects. The May Revision withdraws this proposal.