By Peter Schulte
This World Water Day, the CEO Water Mandate, a UN Global Compact initiative implemented in partnership with the Pacific Institute, will launch a beta version of Water Action Hub 3.0. The Hub 3.0 is a collaboration between the Mandate and GIZ to highlight, share, and scale stewardship lessons learned around the world and to proactively match potential water partners to one another.
Background on the Hub
The Water Action Hub is a global online collaboration and knowledge sharing tool developed by the CEO Water Mandate. Since its initial launch in 2012, the Hub has enabled organizations of all kinds from all corners of the world to find and connect to potential partners for their water sustainability efforts, to showcase their own projects, and to learn about others efforts already underway in locations of interest. The Hub now has over 1500 users from over 600 organizations and 550 projects, including hundreds sourced from CDP, BAFWAC, California Water Action Collaboration, El Agua Nos Une, and others.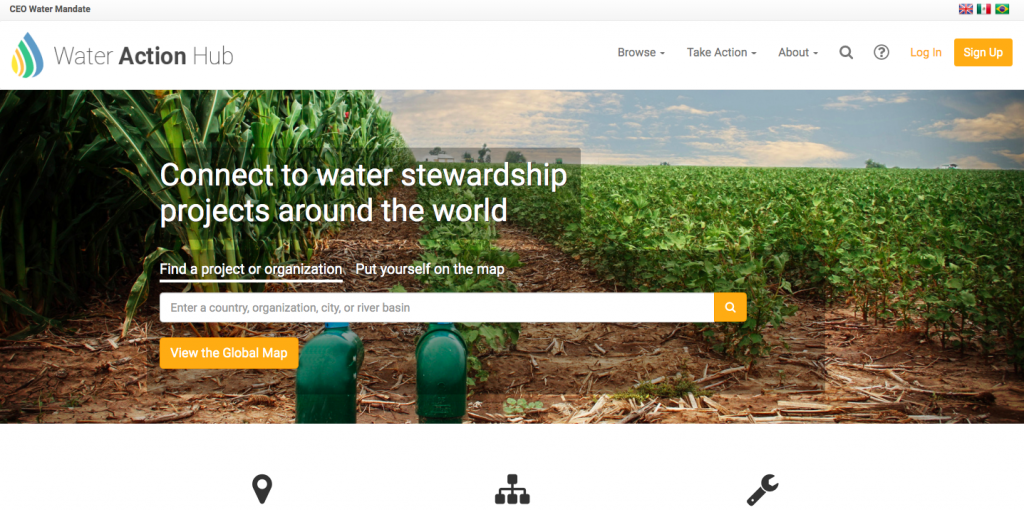 Introducing Hub 3.0 – Lessons Learned & Matching
The water community has already unearthed many critical insights into the challenges that hinder stewardship efforts as well the best practices that can drive impact effectively, credibly, and efficiently. Unfortunately, as of yet, there is no way to systematically and reliably ensure that new water stewardship efforts integrate these past lessons into their project plans. Further, existing lessons learned have only scratched the surface of insight possible and necessary. There is much more knowledge and experience remaining to be captured and integrated into existing mainstream stewardship practice. This dearth of access to lessons learned among new water stewardship projects means they often repeat preventable problems and in so doing waste precious time and financial resources.
Water Action Hub 3.0 seeks to address this critical need. The Hub 3.0 features new functionality that allows us to compile key stewardship lessons learned from GIZ and other stewardship practitioners and allows Hub users themselves to author, publish, and share their own lessons learned.
For example, through its years of supporting water stewardship partnerships around the world, GIZ has learned that developing and implementing robust project governance plans is critical to project success and the failure to do so often impedes otherwise promising efforts. The Hub now features a page that describes how projects can go about implementing such a plan and why, while offering practical examples and also tracking how many projects around the world have done so.
While the Hub now only features a handful of lessons, we hope to use this beta launch to test this functionality and solicit organizations like yours to author your own lessons learned in time for the official launch at this year's Stockholm World Water week in August.
Get involved
While the Hub is developed and maintained by the CEO Water Mandate, a business-oriented initiative, the Water Action Hub is built for businesses, NGOs, government agencies, communities, academics, and more. It is entirely free and open access. Anyone in the world can use it! Indeed, the more organizations use it around the world, the more powerful and useful it becomes for all involved.
You can register for the Hub any time at: https://wateractionhub.org/accounts/register/
If your organizations has learned critical lessons implementing water sustainability efforts, we encourage you to share your insights with others around the world, by publishing them in the Hub.
And if you'd like to discuss in more detail how you and your organization can get involved, I'd be delighted to have a chat with you. Please feel free to contact me at pschulte@pacinst.org with any questions, suggestions, or opportunities.
---
The CEO Water Mandate is a UN Global Compact commitment platform for water stewardship, implemented in partnership with the Pacific Institute since its inception in 2007.