Water Resilience Assessment Framework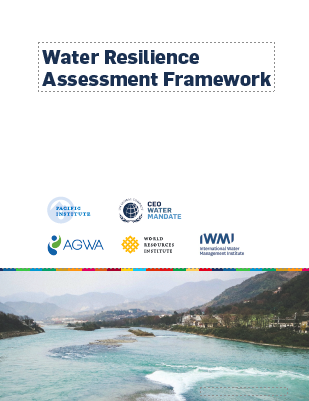 Water Resilience Assessment Framework
Overview
Climate change is driving many types of water challenges, including water scarcity and abundance, worsening water quality, and shifts in timing of the hydrologic cycle. Shocks and stresses affect the resilience of water systems and the stakeholders that rely on them. Specific guidance on how to understand system resilience and measure systematic changes and intervening actions can ensure a more resilient future for all.
This report presents a framework to facilitate a shared understanding of water system resilience and allow practitioners to develop common measurable goals and outcomes for stakeholder and resilience planning. The Water Resilience Assessment Framework consists of four key steps: visualizing the system; developing a resilience strategy; testing the resilience strategy; and evaluating.
The report was created in partnership with the CEO Water Mandate, International Water Management Institute (IWMI), the Alliance for Global Water Adaptation (AGWA), and World Resources Institute (WRI). ​​The Pacific Institute implements the CEO Water Mandate in partnership with the UN Global Compact.