Threats to the World's Freshwater Resources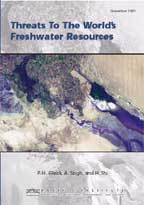 Published: November 10, 2001
Authors: Peter Gleick, A. Singh, H. Shi
Pages: 64
As we move into the 21st century, water managers and policymakers must face new threats to the world's freshwater resources. These threats include pollution, the impacts of climate change, a resurgence of water-related diseases, and the destruction of freshwater ecosystems. Despite the pressing nature of these threats, water institutions and policymakers have, so far, been largely unable to develop the tools and approaches needed to address these problems.
Threats to the World's Freshwater Resources focuses on four emerging threats and challenges: water and ecosystem health, the destruction of freshwater ecosystems; freshwater quality concerns; and long-term global climate change and its impact of water resources. Our report also offers several new solutions and approaches to the problem. First among these is a realization that sustainable use of freshwater requires a new dialogue on the ultimate ends to be served by water management.
Download the report.
Read the press release.