Sustainable Landscapes on Commercial and Industrial Properties in the Santa Ana River Watershed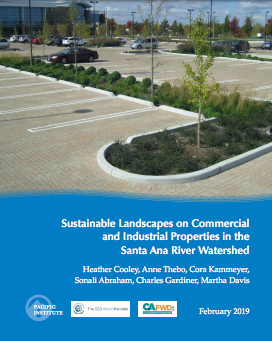 Sustainable Landscapes on Commercial and Industrial Properties in the Santa Ana River Watershed
Overview
Pressures on water resources are intensifying due to aging infrastructure, population growth, and climate change, among other factors. With vast expanses of water-intensive turf grass and large impervious surfaces, most urbanized communities are ill-adapted to these pressures.
This study finds that there are significant opportunities for the business community in California's Santa Ana River Watershed to contribute to shared watershed goals through investments in sustainable landscape practices on their properties. These landscapes can improve surface water quality, flood management, and water supply reliability, while also reducing energy usage and greenhouse gas emissions, sequestering carbon, improving ecosystem and human health, promoting economic activity, and enhancing community resilience. While focused on the Santa Ana River Watershed, the project approach and findings are relevant to urban communities around the world.
The project includes an interactive mapping tool that allows users to explore the potential benefits of sustainable landscaping practices across the Santa Ana River Watershed. This project is a collaboration between the Pacific Institute, California Forward, the CEO Water Mandate, and the Santa Ana Watershed Project Authority.
Resources