Safe Return Project: Research Project for Formerly Incarcerated Residents in Richmond, Calif.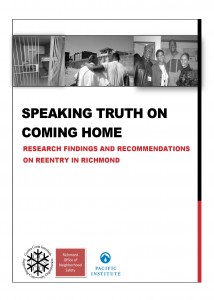 Published: July 26, 2011
Pages: 15
The Safe Return Project is a participatory research and action initiative led by a group of formerly incarcerated Richmond residents carrying out research, community organizing, and policy advocacy to improve community reintegration after incarceration. In this partnership with Contra Costa Interfaith Supporting Community Organization (CCISCO) and Richmond Office of Neighborhood Safety, the Pacific Institute provides capacity building, coordination, and research support.
The project advances community health and safety by building the capacity of a group of formerly incarcerated residents to research and take action on the challenges facing Richmond residents coming home after incarceration. Ten Community Researchers have been participating in trainings and planning meetings led by the Pacific Institute since autumn 2010, leading to their planning and carrying out primary research in an effort to improve service provision and employment opportunities for the Richmond community. In June 2011 the Safe Return Project hosted a community workshop on employment and housing rights of formerly incarcerated people. The Community Researchers involved in this participatory action research project facilitated the event and were joined by employment and housing legal experts from the National Employment Law Project and Bay Area Legal Aid. A Safe Return research findings and recommendation report, Speaking Truth on Coming Home, was presented to community leaders in Richmond at an open meeting in July 2011.
VIDEO
Safe Return Project

There are about 2,000 residents in Richmond, North Richmond, and San Pablo who are currently on parole or probation. Thousands more are no longer on probation or parole but still face challenges when accessing employment, housing, and critical services. In recent years, about two-thirds of residents going to prison had already been incarcerated before. This cycle of incarceration disproportionately affects Black and Latino families. African Americans comprise 6% of California's population and 29% of the prisoners and parolees.
Incarceration affects individuals, families, and the community in profound ways. Children with incarcerated parents can experience emotional and psychological challenges. At the neighborhood level, high rates of incarceration destabilize the community, strain relationships, and prevent people from accessing employment, housing, and other necessities. Improving the health, economic opportunities, and wellbeing of Richmond communities depends on discontinuing the revolving door between communities and the criminal justice system.
The Safe Return Project ensures that critical information and voices from the people with direct experience of what it takes to successfully reintegrate will inform policies and programs supporting this community. The project team is carrying out a survey of recently returned residents, policy research, interviews and meetings with agencies and stakeholders, and community actions to educate and advocate.
Read the Safe Return research findings and recommendation report, Speaking Truth on Coming Home,
For more information, contact Catalina Garzón.
The Safe Return Project is made possible through the generous support of The California Endowment, the Mitchell Kapor Foundation, and the Kaiser Foundation.