Neighborhood Knowledge for Change: The West Oakland Environmental Indicators Project
Published: January 2002
Authors: Meena Palaniappan, Arlene Wong, Steve Costa, Jeremy Hays, Clara Landeiro, Jane Rongerude
Pages: 78
Project Points to New Model for Community Activism Combining Science, Advocacy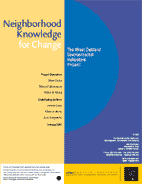 The Pacific Institute and the 7th St. Neighborhood Improvement Initiative today released a new report and held a "toxic tour" showing that West Oakland bears the brunt of the area's pollution problems, but reaps few of the benefits.
"This report details through scientific research what residents of West Oakland have long known: That West Oakland suffers the lion's share of the area's toxic pollution, but gains few of the benefits," said Meena Palaniappan, co-director of the Pacific Institute's Environmental Indicators Project.
The report, Neighborhood Knowledge for Change: The West Oakland Environmental Indicators Project (PDF), shows that residents of West Oakland face five times more toxic pollution per person than residents of the city of Oakland. Children in West Oakland are seven times more likely to be hospitalized for asthma than the average child in the state of California. nearly 82 percent of those who live in West Oakland are within 1/8 mile of an industrial area. Only 31 percent of area residents can afford the median rent on available housing units.
"We hope this report will help residents of West Oakland fight for clean air and a healthy environment," Ms. Palaniappan continued, "but we also hope that the partnership between the Pacific Institute and the 7th Street Initiative will point the way to a new approach to fighting toxic pollution and environmental discrimination."
The Environmental Indicators Project is the culmination of two years of research and analysis and is the fruit of an unusual collaboration between grassroots advocacy groups, community residents, and a research organization. After in-depth discussion with a neighborhood-based steering committee, the Pacific Institute created a set of 17 indicators to track environmental conditions in West Oakland. The indicators look at issues ranging from air pollution and toxic contamination to gentrification and voting.
"I have been talking for years about toxic pollution in West Oakland, but now I have the specifics I need to make my case," noted Monsa Nitoto, Vice-Chair of the 7th Street Initiative. "This project is an excellent model for how research organizations and groups working for social change can collaborate to empower residents to improve their communities." Along with researching and publishing the information, the Pacific Institute is providing training and support to grassroots activists working in West Oakland so they can use the research to make their case and maintain the indicators information. In addition, the Pacific Institute has launched a companion website to provide other interested communities with the tools they need to create their own indicators report.
Download the report (PDF)