Municipal Deliveries of Colorado River Basin Water: New Report Examines 100 Cities and Agencies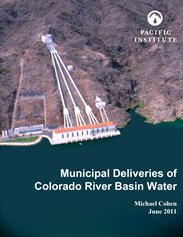 Published: June 12, 2011
Author: Michael Cohen
Pages: 73
The Pacific Institute's Municipal Deliveries of Colorado River Basin Water documents population and water delivery information and trends for 100 cities and agencies that deliver water from the Colorado River basin. Since 1990, the number of people in the United States and Mexico who use Colorado River basin water has increased by more than 10 million -– but their overall per capita water use declined by an average of at least one percent per year from 1990 to 2008.
The new report provides -– for the first time -– real numbers on the extraordinary population growth among cities that depend on water from the basin and on changing water delivery rates by these cities. Author Michael Cohen, senior research associate, documents the substantial water-efficiency gains made over the past twenty years by agencies delivering water from the Colorado River basin -– even by agencies and cities such as Flagstaff that already had relatively low per capita delivery rates in 1990.
Download the full report here.
Water taken from streams and rivers and pumped from the ground within the nearly quarter-million-square-mile Colorado River basin now meets some or all of the needs of almost 35 million people, including fast-growing cities within the basin such as Las Vegas and Phoenix and St. George, Utah. Some cities, especially in Arizona and Utah, have more than tripled in size since 1990. But more than 70% of the people receiving such water live outside the basin, in cities such as Cheyenne, Denver, and Albuquerque to the east and Salt Lake City, Los Angeles, San Diego, and Tijuana to the west of the basin.
From 1990 to 2008, total municipal water deliveries from the Colorado River basin increased by more than 600,000 acre-feet, at a rate much slower than population growth. In fact, the new study shows that if water deliveries had increased at the same rate as population growth, they would have grown by almost two million acre-feet -– assuming that much additional water was even available for delivery.
From 1990 to 2008, per capita water delivery rates declined dramatically in Albuquerque (38%); Southern Nevada (31%); Phoenix (30%); and San Diego County (29%). Southern California agencies delivered 4% less water in 2008 than they had in 1990, despite delivering water to almost 3.6 million more people. In fact, 28 water agencies in five different states delivered less water in 2008 than they had in 1990 despite population growth in their service areas, evidence that water deliveries do not simply track population.
Municipal deliveries –- which include deliveries to the residential, commercial, industrial, and institutional sectors, but do not include deliveries to agriculture, energy producers, or mining -– comprise about 15% of total Colorado River use (agriculture uses more than 70%). But as the fastest-growing sector, municipal use drives demands for additional water supplies and places pressure on a river system that is over-allocated and facing a supply-demand imbalance, as well as the prospect of long-term declines in run-off due to climate change.
Municipal Deliveries of Colorado River Basin Water shows that projecting future water demands should take into account the successes achieved in cities where there are many examples of water conservation in practice that could be adopted or emulated by the less water efficient providers.
The Pacific Institute has also posted the data used for the report, available as a spreadsheet here.
Data were generally reported by the agencies themselves. Email crbwater [at] pacinst.org if you have any corrections to the data, or would like any additional information.
Please support our Colorado River work by sending tax-deductible donations to:
Colorado River Project
Pacific Institute
654 13th St
Oakland CA 94612
Or:
Download the full report.
Download the Municipal Deliveries Report Data (Excel).
Read the press release.

//
Email comments to crbwater@pacinst.org.