Measuring What Matters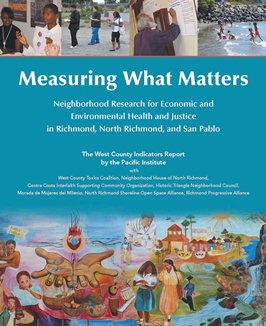 Published: May 2009
Authors: Eli Moore, Swati Prakash, Catalina Garzon, Cristina Hernandez, Leonard McNeil, Carla Perez, Courtney Smith, Amy Vanderwarker, Carmen Violich
Pages: 108
Published by the Pacific Institute and seven local partner organizations, Measuring What Matters: Neighborhood Research for Economic and Environmental Health and Justice in Richmond, North Richmond, and San Pablo quantifies how serious, avoidable problems have become chronic and offers solutions for a better, more equitable way of life in West County.
The West County Indicators Project was launched in 2006 to work with local residents and organizations to build power to achieve a vision for healthy communities in West Contra Costa County. The individuals and groups who have worked on the issues in the resulting report have produced action plans to identify and address the concerns they feel most impact their quality of life and health. The bottom line is that a healthy community requires environmental and economic justice.
Read the full report.
Read the Summary of Findings.
Read the report in Spanish/Español.
Report At A Glance:
//