Ensuring One Water Delivers for Healthy Waterways: A Framework for Incorporating Healthy Waterways into One Water Plans and Projects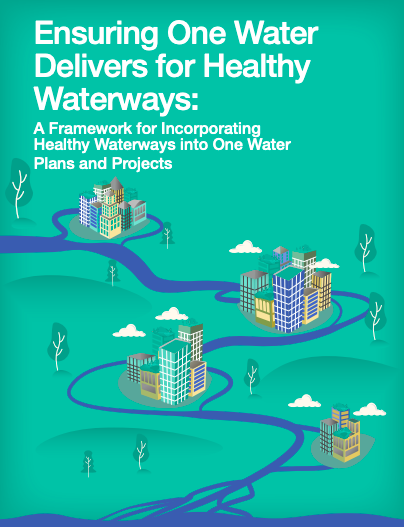 Ensuring One Water Delivers for Healthy Waterways: A Framework for Incorporating Healthy Waterways into One Water Plans and Projects
Overview
As forward-thinking cities become increasingly adept at capturing and reusing wastewater, stormwater, and greywater, essential river systems may be at risk. The "One Water" approach to water management emphasizes an integrated planning and implementation approach that acknowledges the finite nature of water resources and prioritizes long-term resilience and reliability.
This report provides city planners that have adopted or are considering the "One Water" approach with much-needed practical guidance on how to build a community-driven water vision that takes into account the needs of local residents as well as downstream cities and ecosystems that depend on a healthy flow of water.
The report was produced by the National Wildlife Federation, the Meadows Center for Water and the Environment at Texas State University, and the Pacific Institute.
View and download the report on the Meadows Center for Water and the Environment website here.