Op-Ed: Hand-Washing Is Critical in the Fight Against Coronavirus, but What If You Don't Have Safe Water?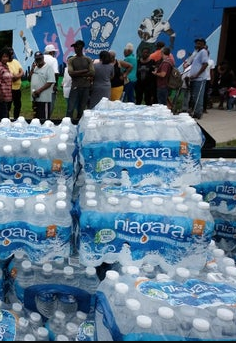 Op-Ed: Hand-Washing Is Critical in the Fight Against Coronavirus, but What If You Don't Have Safe Water?
watwater
Op-Ed
Originally published in The Hill. 
The coronavirus pandemic is shining a spotlight on the weaknesses of social, economic and health safety nets we've long taken for granted, including our water system.
It's hard to wash your hands if you don't have access to running water in your home or your water has been cut off for inability to pay, as it has for thousands of households around the country. Fear and confusion about the safety of tap water are driving people to strip shelves of bottled water, leaving nothing for those with health conditions that require it. The health of vital personnel that operate thousands of water and wastewater plants around the country is being threatened.
We have an opportunity now to deliver on the human right to water by including urgent infrastructure upgrades and ratepayer protections in the coronavirus relief packages currently being negotiated. After decades of deferred maintenance and disinvestment, it is time to shore up the systems that keep our communities healthy and ensure even the most vulnerable among us have access to safe water and sanitation.
More than a hundred years ago, American water utilities took the lead in designing, testing and building some of the first advanced water-treatment plants to deliver some of the safest water in the world. At the time, viruses and bacterial contamination in drinking water were causing repeated epidemics of water-related diseases, including cholera, dysentery, typhoid and more, which killed tens of thousands of people every year.
As modern water systems were put in place, the United States effectively eliminated these diseases. Between 1910 and 1940, the innovation of filtered, disinfected drinking water reduced mortality rates by nearly half in major cities and cut the infant mortality rate by three-quarters. Diarrheal death rates fell from 120 to 10 per 100,000 people. Typhoid death rates fell from 30 to under 1 per 100,000. Disinfected water delivered more health benefits than almost any other modern health intervention. Yet worldwide, hundreds of millions of people still lack access to this necessity.
The United States still has a world-class water system and some of the best water utility managers and operators in the world, but the benefits of those systems are not universally available to all Americans. Worse, parts of the system are failing because of inadequate investment, weak and failing federal regulations and inadequate social safety nets. Nationally, we spend 84 billion dollars less than we should every year to maintain and upgrade our water and wastewater infrastructure.
The tragedy in Flint, Mich., highlighted how bad decisions, political interference in water agency operations, underinvestment and economic malfeasance can lead to disastrous impacts. This tragedy is being repeated in other disadvantaged communities around the nation. Hundreds of thousands of Americans are known to lack access to safe water; more than 200,000 people in California alone don't have hot and cold running water or flush toilets. The gross failure in this country to recognize the human right to safe and affordable water permits water utilities to cut off water delivery to families unable to pay utility bills, which leads directly to increases in waterborne diseases.
The current pandemic offers an opportunity to rethink many things about our nation, including how to ensure that every person has safe and affordable water. There must be clear communication about the safety of our treated water supply from viruses and other contaminants. We must also ensure water services are available to everyone to help stop the spread of the virus. In the past few days, temporary suspensions of water shutoffs for inability to pay have been announced in more than 250 communities around the nation. Detroit has identified 3,600 households whose water has been shut off for more than a year and is trying to restore service to help address the ongoing health crisis.
Any national stimulus package must include money to water utilities to ensure continued reliable delivery of safe water. We must invest in state-of-the-art technology to upgrade drinking water systems. Water shutoffs to the poor must be permanently banned and replaced with a guaranteed minimum water supply for basic needs. Finally, we must not neglect homeless populations desperately in need of hand-washing stations and toilets.
Let's turn this crisis into an effort to rebuild our public water systems and reestablish trust in one of the most important services any modern, first-world country must provide – safe and affordable water services for all.