Gearing Up for Action: A Curriculum Guide for Freight Transport Justice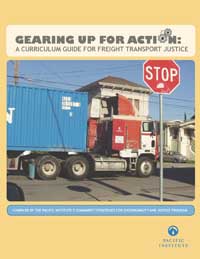 Gearing Up for Action: A Curriculum Guide for Freight Transport Justice
Overview
The Pacific Institute's freight transport justice advocacy work sought to reduce the adverse health impacts of freight transportation on low-income neighborhoods of color closest to freight transport hubs, and to increase the share of the benefits that residents of these communities enjoy.
This guide, developed in partnership with community leaders and organizations, is an advocacy tool to build the power and capacity of communities to participate in decision making around freight transport issues. The activities have been designed to help community leaders engage groups of community members to learn more about freight transport and its effects on communities.
Contra Costa Health Services, Neighborhood House of North Richmond, West County Toxics Coalition, West Oakland Environmental Indicators Project, and Ditching Dirty Diesel Collaborative all contributed to this guide. The first edition was released in October 2010. The updated 2013 version is available in both English and Spanish.

Languages