Gearing Up for Action: A Curriculum Guide for Freight Transport Justice
Curriculum Guide in English and Spanish Supports Communities Grappling with Freight Transport Issues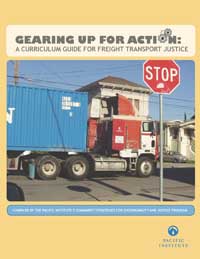 Published: June 6, 2013
Authors: Ariana de Leña, Catalina Garzón
Pages: 114
The Pacific Institute's revised Gearing Up for Action: A Curriculum Guide for Freight Transport Justice (en español, Preparándose para la Acción) is an important advocacy tool to build the power and capacity of communities to participate in decision making around freight transport issues. The activities have been designed to help community leaders engage groups of community members to learn more about freight transport and connect it to their own lives. The goal of our freight transport justice work is to reduce the adverse health impacts of freight transportation on low-income neighborhoods of color closest to freight transport hubs, and to increase the share of the benefits that residents of these communities enjoy.
The user-friendly curriculum guide helps communities grappling with freight transport issues share their experiences, explore the root causes of freight transport impacts, identify those responsible for dealing with these causes, and develop a plan for advocacy to advance their solutions. With activities from "Icebreakers" and "Energizers" to "Freight Transport Human Bingo" and "Putting Our Stories on the Map," Gearing Up for Action engages people in a way that builds community and gives people tools to make change.
The project began in 2009, when the Institute's Community Strategies for Sustainability and Justice Program began sharing the popular-education-style training, research, and advocacy tools for freight transportation justice that we had developed over five years with organizations and coalitions in other freight transport corridors and major hubs in the United States. The first edition of Gearing Up for Action came out in October 2010 to an enthusiastic reception, and the 2013 update is available now in both in English and Spanish.
The creation of this curriculum guide was a shared effort across many hands, hearts, and minds. The Pacific Institute's Community Strategies Program deeply thanks the dedicated community leaders and organizations who contributed to the activities and materials included in this guide:
Contra Costa Health Services (CCHS); Neighborhood House of North Richmond (NHNR); West County Toxics Coalition (WCTC); West Oakland Environmental Indicators Project (WOEIP); and Ditching Dirty Diesel Collaborative (DDDC).
Download the Curriculum Guide:
–in English – Gearing Up for Action
–in Spanish – Preparándose para la Acción