Drought and Equity in the San Francisco Bay Area
Published: June 29, 2016
Authors: Heather Cooley, Kristina Donnelly, Salote Soqo, and Colin Bailey
Pages: 29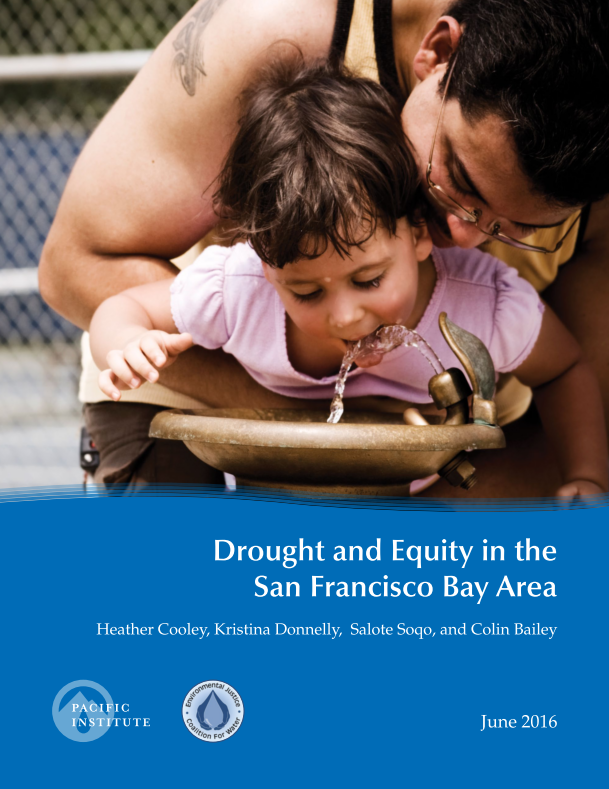 California's ongoing drought has wide-reaching impacts, from how we grow crops to the price of electricity. Often overlooked is its impact on disadvantaged communities. The Pacific Institute and The Environmental Justice Coalition for Water (EJCW) conducted community-based participatory research with eight Bay Area community-based groups to explore and document the drought's impacts on low-income people in the San Francisco Bay Area.
Through a series of collaborative meetings, surveys, and in-depth analyses of data, the group produced a groundbreaking report that sheds light on specific drought-related hardships faced by low-income residents and offers recommendations for mitigating those impacts.
"This report is the first examination of the drought's impacts on low-income communities in the Bay Area," says Colin Bailey, Executive Director of EJCW. "Contrary to the conventional wisdom, the report shows the same hardships that befall California's more rural communities are present in urban areas as well. The report calls on decision makers to account for and address these inequities in our drought responses."
The project team examined available data on drought impacts for the Bay Area, such as the number of households without water. The group identified affordability and water infrastructure conditions as key concerns for low-income communities, along with inequitable water use, whereby wealthier households typically use more water than lower income households. These are persistent concerns in many communities but have been exacerbated by the drought.
During a drought, for example, water utilities may enact surcharges to purchase emergency water sources or to recover revenues lost through reductions in water use. These surcharges are needed to maintain the economic viability of the water utility; however, they may exacerbate affordability concerns for low- or fixed-income households.
The report provides specific ideas for more equitable drought responses in local communities:
Fair and equitable water rates
Billing practices that meet low-income household needs
Low-income financial assistance programs
Programs to reduce water use in low-income households
Stakeholder engagement in decision-making processes
Effective communication and outreach strategies
"This unique and timely report highlights challenges the drought creates for low-income people and provides strategic recommendations to mitigate the impacts of those challenges," says Heather Cooley, Water Program Director and report author. "This report serves as a tool for both water managers and communities everywhere as they work to develop more equitable and resilient communities now and for the climate of the future."
Download the full report here.