Benefit Accounting of Nature-Based Solutions for Watersheds Guide Version 2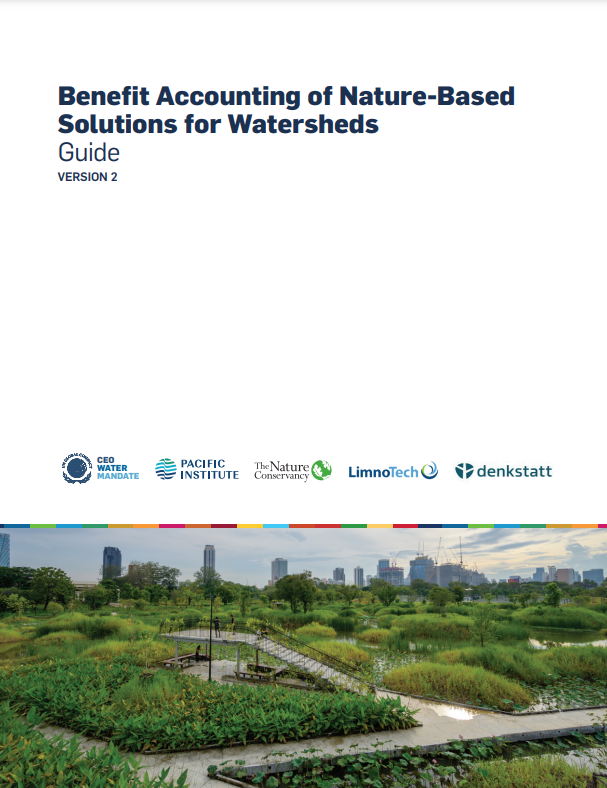 Benefit Accounting of Nature-Based Solutions for Watersheds Guide Version 2
Overview
Nature-based solutions (NBS) provide a key mechanism to adapt to and mitigate climate and land use impacts. Interest and investment in NBS have grown significantly over the last five to ten years. However, barriers and opportunities remain for widespread implementation of NBS. A key challenge for companies is the lack of a standardized method to account for the multiple benefits of NBS, which is needed to build the business case for NBS investments.
Drawing from the foundational work of the Benefit Accounting of Nature-Based Solutions for Watersheds Landscape Assessment [hyperlink], this revised guide provides a method to identify, account for and value the benefits of NBS across watersheds
Key takeaways from the guide include:
A method to identify the benefits of NBS projects in a stepwise manner across the design, implementation and M&E stages.
Details around benefit forecasting and valuation
A plethora of indicators and calculation methodologies to estimate or quantify the outcomes of NBS projects.
Insights drawn from 94 NBS case studies, encompassing local watershed context considerations, benefit trade-offs, and robust M&E methodologies.
Principles for equitable and effective stakeholder engagement, emphasizing long-term relationship-building, transparency, and co-creation.
This guide was developed by the CEO Water Mandate, the Pacific Institute, The Nature Conservancy, LimnoTech and denkstatt.
Other Resources