Assessing Water Affordability
New Study Shows Type of Measurement is Critical to Recognizing California's Water Affordability Challenges: Thousands Could Go Uncounted
Published: August 14, 2013
Authors: Juliet Christian-Smith, Carolina Balazs, Matthew Heberger, Karl Longley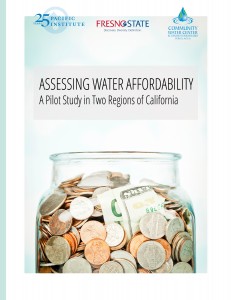 A new pilot study in California shows many households, even within affluent communities, routinely spend over the affordability threshold of 2 percent of their household income on their water bill. The number of water systems with "unaffordable" rates varies by region and measure used – which has important implications for policy makers.
Assessing Water Affordability: A Pilot Study in Two Regions of California, from the Pacific Institute in partnership with Community Water Center and Fresno State University, looks at both an urban and rural case: the Sacramento metropolitan area and the Tulare Lake Basin. In Sacramento, using the most common form of determining affordability – the annual water bill as a percent of median household income at the water system scale – few water systems appeared to suffer from unaffordable rates. In contrast, in the Tulare Lake Basin, 18 percent of systems had unaffordable rates. Using a more fine-grained measure based on household income levels reveals even higher levels of unaffordability in both regions.
In the Sacramento metropolitan region, measuring on a water-system-wide scale vs. a household scale means the difference between recognizing zero water systems with unaffordable rates vs. 100,000 households with unaffordable water rates. In the rural Tulare Lake Basin, measuring on these different scales means finding only nine out of 51 water systems with unaffordable rates vs. nearly 4000 households with unaffordable water rates – some 40% of the households in the study group.
"Water rate affordability is a central element to water access, and cost makes water excludable and inaccessible to those who cannot afford it," said Dr. Juliet Christian-Smith of the Pacific Institute. "Water affordability is also a major concern to public welfare, safety, and security. When households are unable to make their water payments, consequences can include public health crises, social unrest, and lost revenue for water providers that can threaten their fiscal stability."
The study's results show that a significant number of areas within water systems have unaffordable rates, even if the system as a whole does not, and so it may be more important to consider household income rather than median income when assessing and addressing water affordability.
Water provision is a rising cost industry in both urban and rural areas, with much of the water infrastructure in the U.S. at, or beyond, its useful life. Infrastructure replacement costs will significantly contribute to the unaffordability unless these costs are paid for in great part by external funds. In addition, some water systems, such as many in the Tulare Lake Basin, are facing challenges as legacy nitrate pollution or other contaminants like arsenic and DBCP continue to contaminate water supplies. In these areas, households must spend an even greater percent of their income purchasing replacement water, making affordability an even greater issue. As the persistent water quality problems in the Central Valley worsen, water treatment costs will increase, and systems may be forced to increase their water rates, leading to likely scenarios of increasing water bills in an area already plagued with high levels of unaffordability. Indeed, more and more water systems may find themselves in a difficult financial situation, torn between the need to upgrade or increase treatment to ensure safe drinking water while also keeping water bills low enough for customers to have access to affordable water.
The study indicates that more specific discussion of developing affordability programs, whether within or across systems, will be critical for California, and more work is needed to address financing considerations for water systems, and their technical, managerial, and financial capacity.
This white paper, Assessing Water Affordability: A Pilot Study in Two Regions of California, is the second in a series covering critical issues for water service providers as they deal with the "new normal," including: water affordability, water financing mechanisms, and lessons from the energy sector. These additional white papers will be released over the coming month.
Download the full study here.
Read our "Need To Know: Water Rates" series briefs:
 Conservation and Revenue Stability
 Demand Forecasting
 Affordability
 Communication and Education
In partnership with the Alliance for Water Stewardship and the California-Nevada section of the America Water Works Association, the Pacific Institute held two Workshops on Water Rates and Finances in Northern and Southern California in 2012, with nearly 100 water utility staff, board members, and other interested parties. The workshops covered a range of finance-related issues including capital finance basics, water demand forecasting tools, innovative water rate structures, affordability programs, and a public goods charge for water.

Download PowerPoint Presentations from the Workshops:
–Tools for Success: Forecasting Water Demand 
–Water Rate Affordability in California
–A Public Goods Charge for Water
–Conservation Rates: Sensible Pricing for Water in the Cal Am Settlement
–Consumption-Based Fixed Revenue
–Capital Finance Overview: Dealing with the New Norm
–Innovative Agricultural Rate Structure
–Modification of Water Rates 2011: City of Napa
–Stories from the Field: Practice and Politics of Rate Setting in the Real World
–Water Demand Forecast Model: Seattle Public Utilities