A Survey of Efforts to Achieve Universal Access to Water and Sanitation in California
Published: April 19, 2018
Authors: Kena Cador and Angélica Salceda
Pages: 38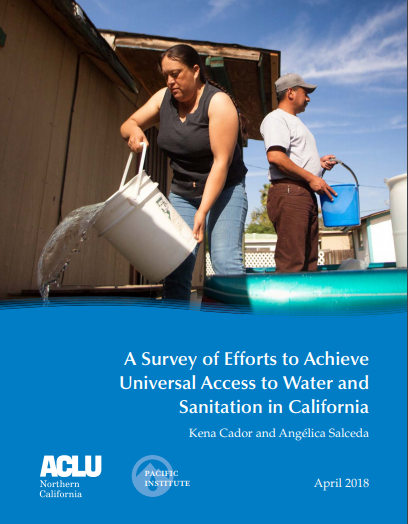 In 2010, the United Nations General Assembly recognized the human right to water and sanitation. Two years later, in 2012, California became the first state in the nation to enact legislation recognizing the human right to water for consumption, cooking, and sanitary purposes. This statute has served as the touchstone for drinking water and sanitation efforts in the state.
A Survey of Efforts to Achieve Universal Access to Water and Sanitation in California, by the ACLU of Northern California and the Pacific Institute, provides a comprehensive overview of efforts of state agencies and non-governmental stakeholders to advance implementation of the human right to water in California. It identifies challenges to universal access and explores potential solutions, including improving data collection on onsite wastewater treatment systems, such as septic, and making the right to sanitation explicit.
Read the Executive Summary here.
Read the full report here.